2021-July-28 02:12
Politics
2021-July-7  12:45
Envoy Confirms Iran's Plan to Produce Enriched Uranium Metal
TEHRAN (FNA)- Iran's Ambassador and Permanent Representative to the Vienna-based International Organizations Kazzem Qaribabadi said that his country intends to produce enriched uranium metal in the near future, adding that the International Atomic Energy Agency has been informed of Iran's plan.
Qaribabadi made the remarks on Tuesday, saying that the uranium silicide plate enriched to 20 percent purity would be used as fuel for a research reactor in the capital, Tehran.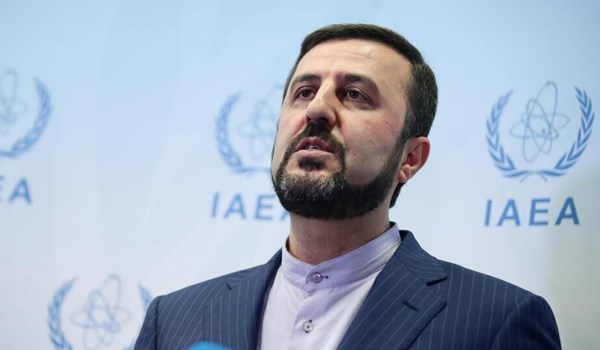 "Research and development regarding this issue with natural uranium began about three months ago. In the new process, a new fuel plate will be produced using 20 percent enriched uranium," he told reporters.
"This measure, which will significantly improve the quality and quantity of radiopharmaceutical production, will make the Islamic Republic of Iran one of the leading countries in the field of nuclear technology," the Iranian diplomat added.
Qaribabadi also stressed that IAEA had been informed of the Tehran's move nine days earlier and the relevant operations had begun right afterwards.
He described the silicide plate as a modern type of nuclear fuel whose technology is only available to a handful of countries.
The IAEA said in a statement on Tuesday that Iran intends to use domestically enriched uranium (U-235) with 20 percent purity as fuel in the Tehran reactor.
"Today, Iran informed the Agency that UO2 (uranium oxide) enriched up to 20% U-235 would be shipped to the R&D laboratory at a plant in Esfahan, where it would be converted to UF4 (uranium tetrafluoride) and then to uranium metal enriched to 20% U-235, before using it to manufacture the fuel," the statement said.
The IAEA also said the process would be a multi-step measure, suggesting that it would take much time.
The US, under former president Donald Trump, unilaterally withdrew participation in the agreement and re-imposed sanctions against Iran, which the accord had lifted.
The Trump administration subsequently launched what it touted as a campaign of "maximum pressure" against Iran, hoping to force the Islamic Republic to accept large-scale limits on its nuclear program and missile work, among other things.
The administration of US President Joe Biden has verbally renounced that policy and admitted to its failure, while expressing a willingness to return to the Iran deal. However, it has so far stopped short of taking any concrete steps to that end and retained the sanctions on the Islamic Republic.