2021-July-28 02:23
Politics
2021-July-10  15:37
Commander Underlines Iranian Army's Timely Reaction to Enemies' Plots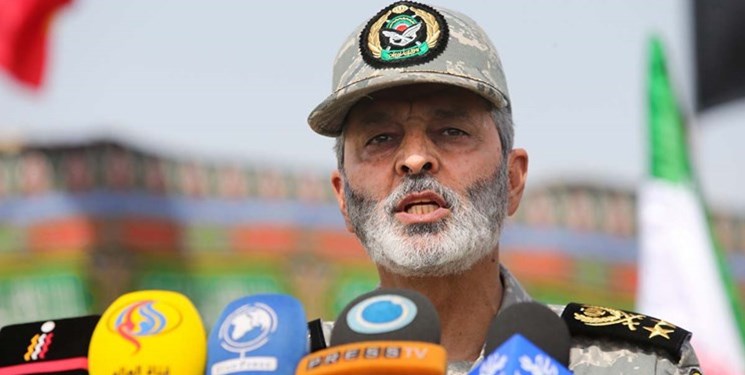 TEHRAN (FNA)- Iranian Army Commander Major General Abdolrahim Mousavi said that his forces are always ready to stand against enemies' plots and mischievous acts.
"The army has high characteristics, one of which is timely presence on the scene," General Mousavi said while visiting different sections of the Army Ground Forces' Unit in Borujerd in Western Iran on Saturday.
"Today, the army is present when it is supposed to counter the enemy. One good example of this was the large presence of army personnel and their families in the 13th Presidential Election in Iran," he added.
In relevant remarks late last month, Iranian Navy Commander Rear Admiral Hossein Khanzadi underlined that the country monitors all moves by the trans-regional forces in the Persian Gulf, saying that they should leave the region.
Rear Admiral Khanzadi made the remarks in a meeting with Chief of Staff of the French Navy Pierre Vandier on the sidelines of the Seventh Indian Ocean Naval Symposium (IONS).
He referred to the geostrategic position of Iran in the region, and said, "The Islamic Republic of Iran is located in a special position in the northern region of the Indian Ocean, and many geopolitical experts refer to Iran as the heart of the earth."
"One of the reasons for this is the very good passage capacity, energy and also the existence of very important straits in this area," Rear Admiral Khanzadi added.
"While the Persian Gulf and the Sea of Oman is a safe and stable region, in recent years we have witnessed a lot of insecurity in the Gulf of Aden and the Bab al-Mandab Strait," he noted, adding, "For this reason, we do not understand the existence of coalition forces in the Persian Gulf region, and we believe that the main reason for this presence is that the dialogue between the effective navies has diminished."
Stating that Iran is closely following the moves of the coalition forces, Khanzadi said, "Today, a number of American and European vessels, as well as France, are present in the Persian Gulf region, but we monitor all their moves and vessels."
Iran's Navy Commander emphasized that the security of the maritime areas of any geography should be provided by the countries of that region.
He also highlighted that these undesirable security combinations [coalition forces] do not enhance collective security and should be suspended.