2021-August-3 01:55
Society_Culture
2021-July-13  20:15
Iran among 6 Producers of Anti-Virus Masks by Using Silver Metal Fibers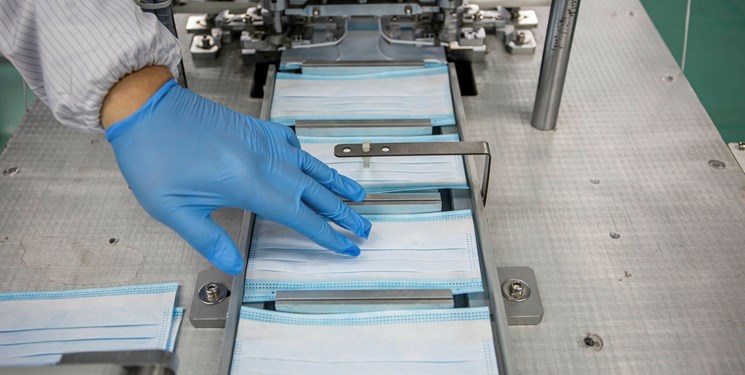 TEHRAN (FNA)- Iranian scientists at a knowledge-based company produced anti-virus masks by using silver metal fibers which can effectively prevent the spread of coronavirus.
The mask is made of pure silver metal. The antimicrobial properties of silver have been proven since ancient times and have long been used to disinfect wounds or cure microbial diseases. Using pure silver metal fibers as a strong disinfectant can eliminate 650 types of microbial, bacterial, fungal and viral contamination. This fabric mask can be washed a hundred times without any change in its quality.
Also, the mask can be used as a shield for people infected with coronavirus to control and prevent the spread of the virus in the environment due to the reduction of contamination.
At present, the mask is produced in Switzerland, Israel, Japan, Spain and the US, and Iran is now among them with this high-tech product.
Iran started exporting of coronavirus-related hygiene products and medical equipment just a few days after the outbreak of the virus, and the number of countries requesting Iran-made products keeps increasing.
Iranian knowledge-based firms export indigenous coronavirus test kits, face masks, serology test kits and ventilators, the main globally demanded apparatus for fighting coronavirus.
Iranian Vice-President for Science and Technology Sorena Sattari announced his country's self-sufficiency in production of equipment to fight against coronavirus.
"Now, our country does not need imports of equipment to fight against coronavirus and all the country's needs are met indigenously," Sattari told reporters last year.
He noted that Iran imported a number of equipment to fight against COVID-19 virus on the first days of the virus outbreak but it achieved self-sufficiency in manufacturing the hospital and ICU rooms equipment with the efforts of the knowledge-based companies.
Sattari also said that 8 Iranian knowledge-based companies have received necessary permissions for the exports of kits to diagnose coronavirus infection.