2021-August-4 16:08
Politics
2021-July-14  16:19
Rouhani: Iran Able to Produce 90%-Enriched Uranium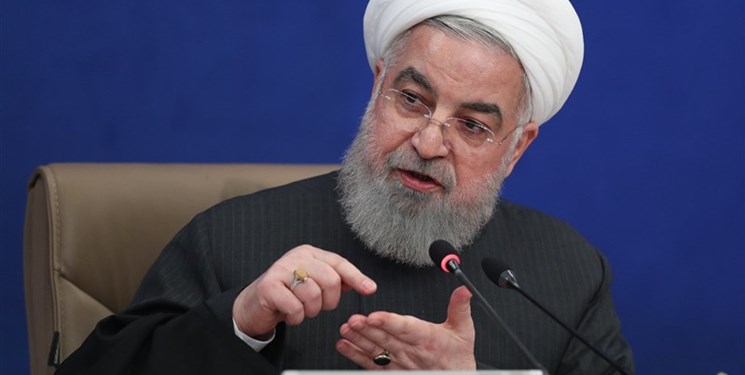 TEHRAN (FNA)- Iran's outgoing President Hassan Rouhani reiterated the country's capability to produce 90%-enriched uranium if necessary.
"The Atomic Energy Organization of Iran (AEOI) can enrich uranium up to 20% and 60% and if one day our reactor needs, it can produce 90%-enriched uranium (too)," Rouhani said, addressing a cabinet meeting in Tehran on Wednesday.
He noted that Iran has shown that it can resolve its major issues with the world via negotiations, adding that after the US withdrawal from the JCPOA, Iran decided to test other solutions when holding talks did not work. 
Rouhani added that by pulling out from the JCPOA, Trump sought to kill the deal and make Iran's economy collapse but none of his dreams came true.
He said that the westerners wanted to shut down Fordow nuclear site but today, the AEOI can enrich uranium by 20% and 60% and if needed, it can produce 90-percent uranium.
Rouhani had also in April said that his country enjoyed the capability to produce enriched uranium to the purity level of 90%, although it was not seeking to manufacture an Atomic bomb.
Rouhani dismissed the US and the three major European countries' concerns after Iran's announcement of starting uranium enrichment to 60% level as "wrong".
He blamed the other parties to the nuclear deal for Iran's latest move, and stressed that as soon as the other parties abide by their undertakings under the deal, Iran will reverse course and will stop both 20% and 60% enrichment.
Rouhani also underscored that the US and Europeans are not in a position to accuse Iran of seeking nuclear weapons. 
"We could have done 60% (enrichment) before. Today we can do 90% enrichment if we want to, but we are not seeking a nuclear bomb," he added.
Stressing that Iran is only pursuing peaceful nuclear activities, Rouhani underlined, "It is you who have been seeking nuclear bombs for years, stockpiling them, and building new bombs every year."
"Whenever you return to the JCPOA undertakings, we will return to ours immediately and our enrichment will not be above 3.67% as allowed by the JCPOA," he said.
The US, under former president Donald Trump, unilaterally withdrew participation in the agreement and re-imposed sanctions against Iran, which the accord had lifted.
The Trump administration subsequently launched what it touted as a campaign of "maximum pressure" against Iran, hoping to force the Islamic Republic to accept large-scale limits on its nuclear program and missile work, among other things.
The administration of US President Joe Biden has verbally renounced that policy and admitted to its failure, while expressing a willingness to return to the Iran deal. However, it has so far stopped short of taking any concrete steps to that end and retained the sanctions on the Islamic Republic.