2021-August-4 18:04
Politics
2021-July-15  12:54
Army Commander: Iranian Armed Forces Vigilant at Borders with Afghanistan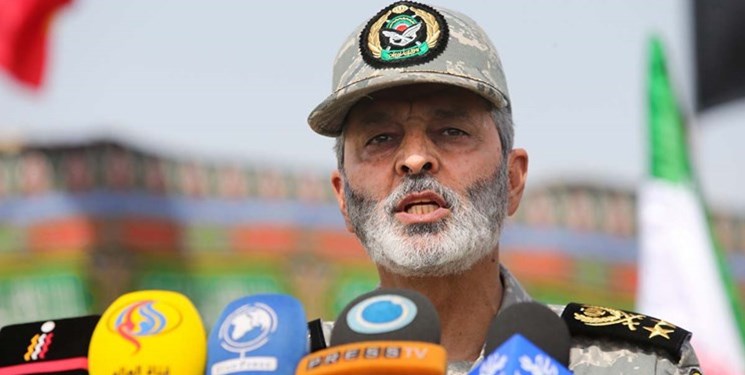 TEHRAN (FNA)- Iranian Army Commander Major General Abdolrahim Mousavi brushed aside concerns about insecurity at the Eastern borders of Iran after the recent developments in Afghanistan, stressing high vigilance of the country's Armed Forces.
"Our Armed Forces are in the best condition and have been preparing for the biggest [possible] threats for years, and the recent events in Afghanistan do not pose any threat to our country," General Mousavi said on Wednesday.
He made the remarks as he visited the Doqarun border in the Southeast of the country to assess military units and closely inspect the military, vehicular, relief and electronic equipment of the army units deployed in the border area.
The senior commander said the country's Armed Forces are well capable of handling security issues emanating from certain developments in Iran's neighboring countries.
"More than 90 percent of the borders are monitored by various electronic systems, sensors, cameras and drones," he said, adding that the information received is analyzed and decided accordingly.    
Mousavi said land, sea and air borders are controlled by the country's Armed Forces using "up-to-date systems."
The commander of the Islamic Revolution Guards Corps (IRGC)'s Ground Force had also said last Sunday that Iran's Eastern border with Afghanistan is totally calm and secure despite the ongoing conflict between the country's government and the Taliban militant group.
"Despite the ongoing war in Afghanistan, no incident worthy of mention has so far happened along Iran's common border with this country, and full security and calm prevail along the eastern border with Afghanistan," General Pakpour said during a visit to Iran's common border with Afghanistan and after inspection of military units stationed there.
The remarks come as the Taliban have overrun areas in Afghanistan bordering five countries – Iran, Tajikistan, Turkmenistan, China and Pakistan, over the past weeks.
The militant group claimed on Wednesday that it has captured the strategic border crossing of Spin Boldak along the frontier with Pakistan, continuing its sweeping gains.