2021-September-23 23:34
Politics
2021-July-20  14:09
Rouhani Asks for Iran-Qatar Cooperation to Save Region from Militarism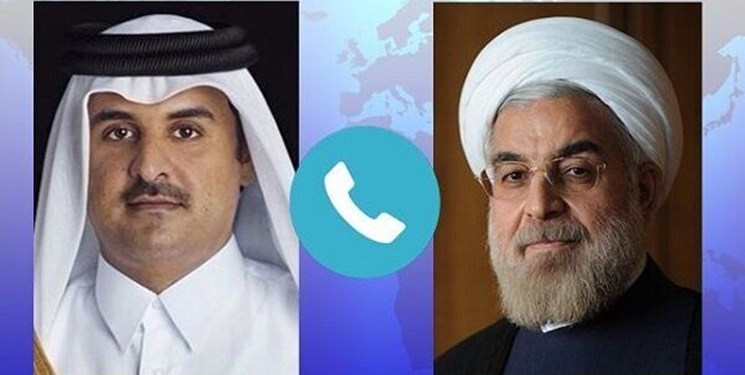 TEHRAN (FNA)- Iran's outgoing President Hassan Rouhani in a phone conversation with Qatari Emir Sheikh Tamim bin Hamad Al-Thani called for cooperation between the two countries to take the region out of militarism pursued by certain states and Israel.
"The most basic challenge facing the region is militarism by certain countries as well as the Zionist regime," Rouhani said during the conversation on Monday.
"We should do our best to get the region out of the current state of militarism," he added.
Iran's president stressed that establishment of peace and stability in the region is among main policies of the Islamic Republic, which is pursued by all Iranian administrations.
He hailed Qatar's stance on regional developments, and said the ongoing crises in the region should be settled through peaceful means and negotiations.
"Today, an atmosphere of moderation and rationality prevails in regional developments and the need for the pursuit of a political solution to solve crises is felt more than ever," Rouhani said.
He noted that moderation, wisdom, constructive interaction and the settlement of disputes through negotiations form the unchanging approach of the Islamic Republic.
"Iran and Qatar share very close positions and policies on stability and balance in the region, and it is necessary for the two countries to strengthen their measures in this regard with the help of other friends," Rouhani stated.
The Qatari Emir, for his part, said Tehran and Doha enjoy cordial and good relations, and added that there has been a turning point in bilateral ties over the past eight years.
He expressed the hope that both sides would continue to develop cooperation.
Pointing to the sensitive situation in the region, Al Thani said his country believes that there is no military solution to regional conflicts as political approaches and talks constitute the best solution to the problems facing the region.
He expressed the hope that all regional countries would make efforts to improve cooperation in an effort to achieve peace.
The remarks comes as a veteran Israeli military pilot who resigned in 2003 at the height of the Second Palestinian Intifada said in May that the Tel Aviv regime and its army are "terrorist organizations" run by "war criminals."
Captain Yonatan Shapira said in an interview that he had decided to quit when he realized that Israeli forces had committed war crimes on a large scale to curb the Palestinian uprising across the occupied territories.
Also, the US Air Forces Central Command (USAFCENT) announced in May that F-18 fighter jets were deployed to Saudi Arabia to promote security and stability amid the escalating violence in the Middle East.
"F/A-18D Hornet aircraft deployed to @378AEW [378th Air Expeditionary Wing at Prince Sultan Air Base], Kingdom of Saudi Arabia, this week as part of a dynamic force employment to enhance @CENTCOM's [US Central Command] ability to deter aggression and promote security and stability within the CENTCOM​ area of responsibility," USAFCENT wrote on Twitter.