2021-August-1 02:26
Politics
2021-July-20  18:03
Iranian Navy Commander to Visit Russia Soon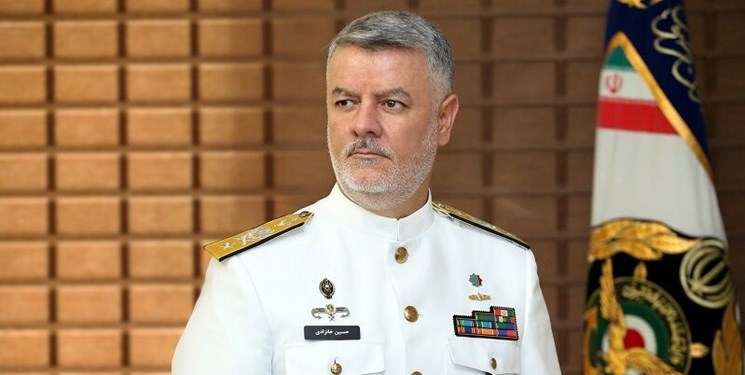 TEHRAN (FNA)- Iranian Navy Commander Rear Admiral Hossein Khanzadi is due to visit Russia in the near future to participate in celebrations on the occasion of Russia's Navy Day.
The Iranian Navy vessels are also scheduled to participate in parades of Russia's Navy Day in Saint Petersburg on July 25.
Iranian embassy in Moscow announced that Rear Admiral Khanzadi will head a military delegation to Saint Petersburg to attend Russia's Navy Day celebrations along with the Iranian Ambassador to Moscow Kazem Jalali.   
The Iranian Navy commander will reportedly meet with his counterparts and senior military officials from different participating countries on the sidelines of the celebrations.  
Russian Defense Minister Sergei Shoigu said on Monday that warships and other military vessels from a number of countries, including Iran will be participating in the parades.
Noting that some 54 warships will be present at the parades, Shoigu said that this year's parades are the biggest parades in comparison to those of previous years.
In a relevant development in February, The Iranian and Russian naval forces on the second day of their joint drills in the Northern Indian Ocean exercised freedom of two hijacked ships and extinguishing fire.
"On the second day of combined wargames in the Northern Indian Ocean, and based on a scenario, the rescue operations of two cargo ships hijacked by pirates while sailing in international waters was carried out by surface and air units," Spokesperson of the joint Iran-Russia naval exercises Rear Admiral Gholamreza Tahani said at the time.
He explained that at this stage, after sending an emergency message by the cargo ships to the MRCC center of Chabahar, first the operation area was identified and searched by a SH3D helicopter of the Iranian Navy and then the Iran-made destroyer, Jamaran, ordered the warships stationed in the region into two groups consisting of Iranian and Russian units to liberate the vessels.
"The special operations forces of the Iranian Army and Islamic Revolution Guards Corps (IRGC) Navies along with Russian forces were deployed on the hijacked ships' decks by air landing and also simultaneously penetrated from the surface, arrested the pirates and carried out the scenario of operations to free the ships," Rear Admiral Tahani said.
He added that the scenarios included capturing the pirates, extinguishing the fire set by pirates as a smoke screen to delay the rescue operations, treatment of the wounded and finally towing the cargo vessel to a safe harbor.