2021-August-3 01:13
World
2021-July-21  15:49
Biden Warns US Has 'A Way to Go' on Coronavirus as Delta Variant Accounts for +80% of COVID-19 Cases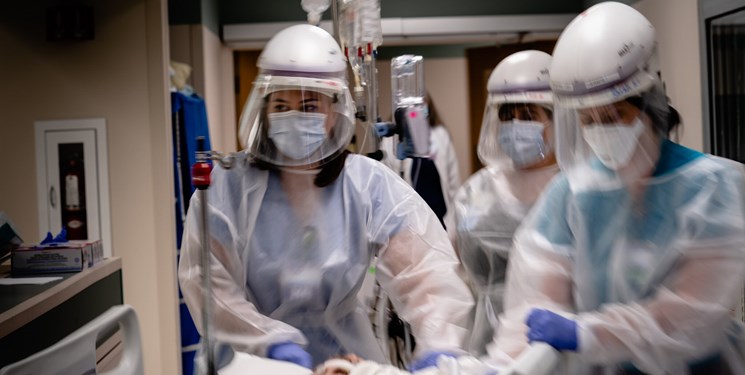 TEHRAN (FNA)- President Joe Biden on Tuesday touted the progress the US has made against the coronavirus pandemic but acknowledged that the country has a long way to go amid a rise in cases due to the delta variant.
Speaking at a Cabinet meeting marking his first six months in office, Biden said that his administration's focus is on persuading those who are not yet vaccinated against COVID-19 to get their shot, The Hill reported.
"I know it seems like a constant uphill climb but gradually we're making progress," Biden continued, adding, "We got a way to go yet."
Biden tried to put the recent rise in cases into context, stating that deaths due to COVID-19 are down "dramatically" since he took office. He credited his administration's vaccination program, which picked up from Operation Warp Speed under the Donald Trump administration and expanded access to vaccines.
"We have to stay vigilant, especially with the delta variant that's out there. While COVID-19 cases are rising, virtually all of the COVID deaths — virtually all of the COVID deaths — and hospitalizations are from unvaccinated people," Biden said, adding, "That means the safest thing to do is get vaccinated."
Biden marked his sixth month in office on Tuesday, offering a "brief progress report" to officials in attendance. The Cabinet meeting was his first conducted in person since taking office. An earlier meeting was held virtually.
Vice President Kamala Harris, Secretary of State Antony Blinken and Treasury Secretary Janet Yellen were among the roughly two-dozen Cabinet members who joined the meeting.
While Biden opened with comments about the ongoing fight against the pandemic, he also discussed the economic recovery and his effort to harden America's alliances. Biden waxed optimistically about the fate of his bipartisan infrastructure deal, even as GOP senators on Capitol Hill demand the delay of a key vote on the package Wednesday as they struggle to finish the details.
"I think we're on the verge of me really being able to get something done," Biden noted.
Biden's comments about the pandemic came the same day as news that a White House staffer tested positive for the virus despite being fully vaccinated, a reminder of the continuing threat of the pandemic. White House Press Secretary Jen Psaki stated there had been other positive tests among White House officials but did not offer a number.
The individual did not have close contact with Biden, and the White House is still regularly testing staffers for the coronavirus.
Also on Tuesday, Centers for Disease Control and Prevention (CDC) Director Rochelle Walensky said the delta variant of the novel coronavirus is now responsible for 83 percent of all sequenced COVID-19 cases in the United States.
That estimate is a major increase from just over two weeks ago. For cases tallied during the week of July 3, the CDC estimated the delta variant accounted for about 50 percent of new infections.
Walensky told the Senate Health Committee that in some parts of the country with low vaccination rates, the percentages are even higher.
Anthony Fauci, head of the National Institute of Allergy and Infectious Diseases, noted that the delta variant could be responsible for up to 90 percent of cases in some areas. 
Vaccination has been uneven across states, and only about half of all eligible people nationwide are fully vaccinated.
"We have the tools to end this epidemic," Fauci stated, adding, "It's up to us to use those tools."
Health officials have described the latest stage of the coronavirus as a "pandemic of the unvaccinated" while emphasizing that those who have had their shots are relatively safe.
Walensky cited a five-month CDC study that found 99.5 percent of COVID-19 deaths are among people who are unvaccinated.
"Each death is tragic, and even more heartbreaking when we know the majority of deaths could be prevented with a simple, safe available vaccine," Walensky stressed.
Fauci and Walensky also told the panel that it's still unclear when or if booster shots are needed, but clinical studies are being conducted to figure that out.
"Right now we are doing studies to determine whether or not we will need boosters to increase the durability of protection," Fauci said, noting, "We don't want people to believe that when you're talking about boosters, that means the vaccines aren't effective. They are highly effective, we are talking about the durability of that."  
Walensky added that she expects the immunity from vaccines to "wane not plummet", but when the agency sees waning happening, "that will be our time for action".