2021-September-25 10:08
Politics
2021-July-23  14:21
Commander: IRGC Navy Ready to Rigidly Defend Iran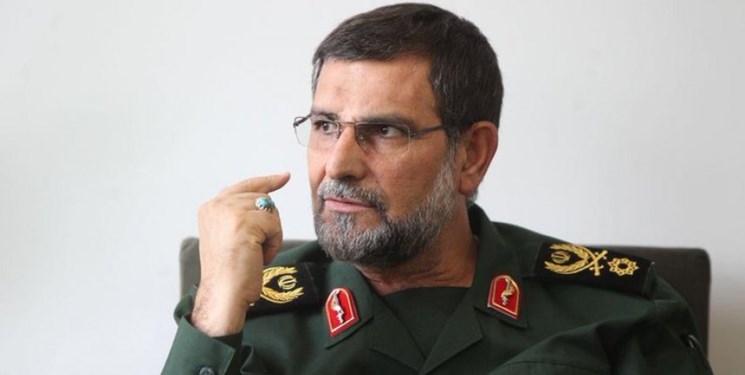 TEHRAN (FNA)- Commander of the Islamic Revolution Guards Corps (IRGC) Navy Rear Admiral Alireza Tangsiri underlined that his forces are fully prepared to defend the country.
"The IRGC Navy firlmy ready to firmly defend the Islamic Republic of Iran and the ideals of the Islamic Revolution with its utmost power and might," Rear Admiral Tangsiri said on the occasion of the anniversary of the historic visit of Supreme Leader of the Islamic Revolution Ayatollah Seyed Ali Khamenei to the IRGC Naval Command Headquarters in Bandar Abbas on July 23, 2011.
He pointed out that now, 10 years have passed since the historic visit of Ayatollah Khamenei that brought about many blessings and achievements to the IRGC Navy, the most important of which includes strengthening the spiritual, revolutionary and Jihadi spirit among sailors, full independence of the Islamic Republic of Iran at sea, imposing the will of Iranian nation on consolidating will of political and military powers.
"Today, the security of islands and maritime borders both in Southern and Northern parts of the country has intensified under the auspices of wise leadership of Ayatollah Khamenei in a way that the Navy Force of the country, relying upon the assistance of the God Almighty, are fully prepared to defend ideals and sublime values of the Islamic Revolution in regional and distant waters with all their might," he added.
In relevant remarks earlier in July, IRGC Commander Major General Hossein Salami warned enemies that Iran will thwart their plots and defeat them at the origin of their threats.
General Salami made the remarks at a ceremony held to mark delivery of new military equipment to the IRGC Ground Force.
"We have been exposed to the policies of evil powers and big and small villains for decades. During this time that we gained political independence and dignity, the strategic planners of insecurity, from the aggressive US to its European allies and regional partners and local terrorists, are all constantly plotting against the Iranian nation whenever they can," he said.
General Salami said that Iran has learned to foil enemy's plots in the origin, and added, "The defeat of the enemy at the origin is our unchangeable strategy."
He, meantime, said that Iran is not a warmonger state and its strategy is defensive, adding that all strategies of the Iranian Armed Forces are operational.
In a ceremony attended by Major General Salami, IRGC Ground Force Commander Brigadier General Mohammad Pakpour and a group of commanders, officials and senior experts of the Armed Forces, a variety of strategic weapons and modern defense equipment joined the IRGC Ground Force.