2021-September-22 08:12
Politics
2021-July-24  14:52
Top Commander Elaborates on IRGC Measures to Resolve Water Shortage Problems in Southwestern Iran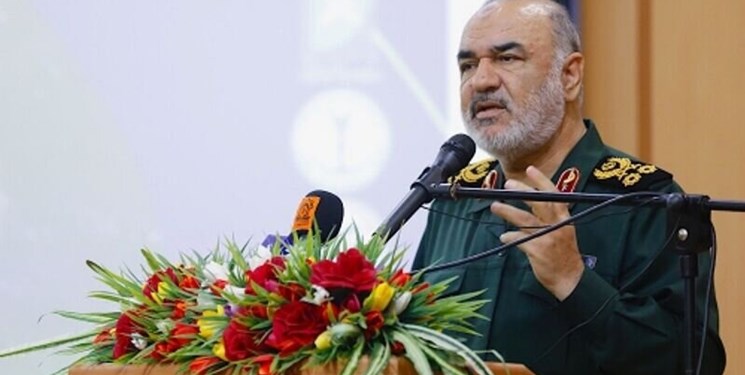 TEHRAN (FNA)- Commander of the Islamic Revolution Guards Corps Major General Hossein Salami underlined the need for rapid measures to resolve the water shortage problems in Southwestern Iran, saying that the IRGC is laying nearly 91km of pipelines in Khuzestan province.
"The (IRGC's) Khatam al-Anbia Construction Headquarters has laid about 525 kilometers of pipelines with a diameter of 2 meters from Shoush region, which draws and supplies water to different cities such as Darkhovin, Ahvaz, Khorramshahr, Hoveyzeh, Shadegan, Hamidiyeh and Abadan within the framework of Qadir project," General Salami told FNA while visiting the Southwestern province of Khuzestan on Saturday.
He added that at present, 60 water tankers with the capacity of 30,000 liters are supplying water to 87 villages in the region, and today another 40 vehicles will join the fleet.
"Nearly 150 fixed water tanks have also been supplied to the villages."
"Around 91 km of pipeline is being laid in a number of villages in the region, including Qizaniyeh, Dasht-e Azadegan and Jofeir," General Salami said, adding that two reservoirs with a capacity of 40,000 cubic meters of water have been created in the West of Shoush to store water.
In relevant remarks on Friday, Iran's Supreme Leader Ayatollah Seyed Ali Khamenei pointed to the water shortage problems facing noble people in Khuzestan province, and said, "The issue of water shortage was one of the pressing problems in this Southwestern province, so that relevant officials should make their utmost efforts in solving the problem."
Ayatollah Khamenei called on officials in next administration of Iranian president-elect Seyed Ebrahim Rayeesi to follow up resolving water shortage problem in this land and territory in the shortest time possible.
Referring to the loyal and sincere presence of people of Khuzestan at the forefront of problems, specially during the eight years of Scared Defense (I1980-1988 Iran-Iraq war), he said, "These people should not have problems and if this problem had been addressed timely, such dire situation would not have happened."
Ayatollah Khamenei, meantime, warned against the plots hatched by the enemies against the country, specially during these days, and said, "Enemy is seeking to take advantage of any opportunity for its benefit while noble people of the country should adopt wise steps in line with foiling their conspiracies."