2021-September-28 04:36
Politics
2021-July-29  12:18
President Assad: Iran, Syria to Continue Cooperation in Anti-Terrorism Fight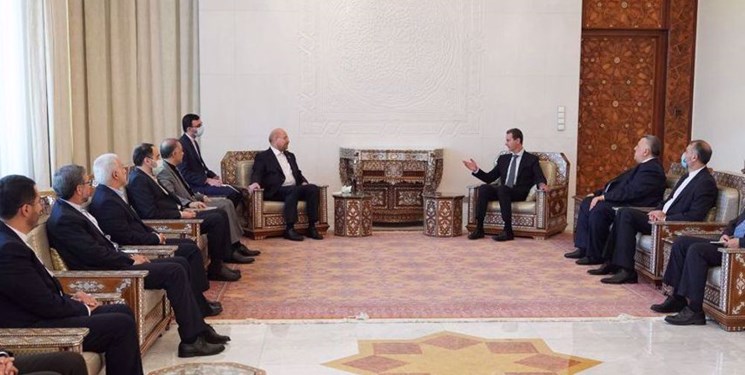 TEHRAN (FNA)- Tehran and Damascus will continue anti-terrorism fight until defeating the terrorist groups completely, Syrian President Bashar al-Assad said.
Iran is a key partner for Syria and has stood by the Syrian people in the face of the terrorist war and provided them with support in all fields, Assad said in a meeting with visiting Iranian Parliament Speaker Mohammad Baqer Qalibaf and his accompanying delegation in Damascus on Wednesday.  
He pointed out that the coordination between the two countries in combating terrorism has brought about positive results on the ground and will continue until the liberation of all lands and the defeat of terrorist organizations.
Qalibaf, for his part, said the recent elections in Syria and Iran and the will of the Syrian and Iranian people in determining their future prove the failure of the pressure policies that are being exerted against them, and stressed that no one can stand in the way of the two nations' will.
During their meeting, the Syrian leader and Iran's top parliamentarian also discussed close, bilateral relations between the two countries and their constructive cooperation at various levels.
The two sides stressed the essential role played by the Iranian and Syrian parliaments to open new horizons for bilateral ties, particularly in the economic field by activating cooperation between the private sector of both countries in a way that would help the two friendly nations confront the economic war and the policy of blockade and sanctions imposed on them.
Heading a parliamentary delegation, Qalibaf arrived at the Syrian capital on Tuesday for an official visit for high-level talks on various issues, including economic cooperation between Tehran and Damascus.  
In a joint press conference with his Syrian counterpart Hammoudeh Sabbagh in Damascus on Wednesday, Qalibaf underlined that endorsement of a comprehensive trade agreement between Iran and Syria would help broaden relations between the two countries.
"Comprehensive trade and economic agreement between Iran and Syria will pave suitable way for better activity of the two countries' public and private sectors in post-war era, rebuilding Syria and taking advantage of trade interests between the two countries," Qalibaf said.
"I take this opportunity to express my heartfelt congratulation for the success of Syrian people for participating in the elections and their special emphasis on safeguarding and stabilizing Syrian land and territory," he added.
The Syrian parliament speaker, for his part, said that the amicable relations between the two countries are strengthened, longstanding and deep-rooted and it is hoped that this visit will further stabilize and strengthen good relations between the two countries.