Politics
2021-August-29  17:42
FM: Iran, Syria Designing Plans to Confront US Sanctions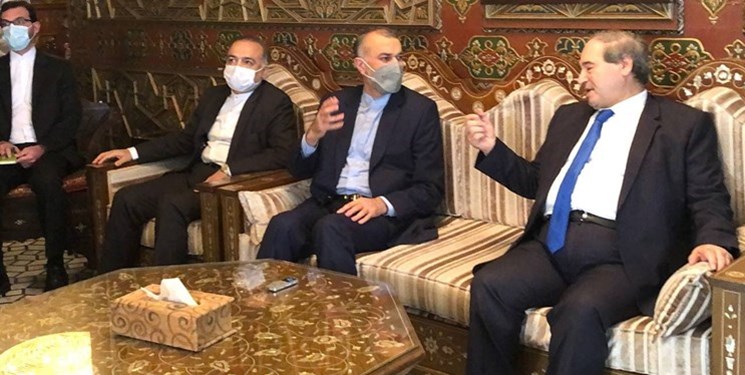 TEHRAN (FNA)- Iranian Foreign Minister Hossein Amir Abdollahian declared on Sunday that Tehran and Damascus are in talks to devise plans to fight against the US sanctions.
"We had very useful talks with my dear brother Mr. Faisal al-Mikdad about expanding and strengthening our relations as much as possible. The two countries are drawing up a plan for the active development of economic and trade cooperation to counter the oppressive sanctions imposed by the enemies," Amir Abdollahian said in a joint press conference with his Syrian counterpart Faisal al-Mikdad in Damascus.
"We examined the latest developments in the region. We believe that any political and security arrangements in the region will be achieved with the presence and participation of all the regional states, including the Syrian Arab Republic, and in this direction we consider the role of Iraq and Syria important to help establish new regional arrangements in the political, security and economic fields," he added.
"The presence of foreign forces in the region will not contribute to the lasting security and stability in this sensitive region," Amir Abdollahian said.
He added that Iran and Syria have close consultations on developments in Afghanistan and believe that forming an all-inclusive government in Afghanistan is a political solution that should be considered by all parties.
"The Zionists are an important factor in fomenting insecurity in the region. Zionists have held captive the Muslims, Christians and even Jews in the historic land of Palestine," Amir Abdollahian said.
He described consultations and cooperation among the regional and Muslim states as important in creating sustainable security in the region, and said, "Serious cooperation between the private sector and businessmen of the two countries is one of the issues seriously pursued by both sides during this trip."
The new Iranian foreign minister arrived in Damascus on Sunday as the second destination of his first diplomatic tour to the region.
Amir Abdollahian made his first visit to Baghdad as Iranian foreign minister on Saturday in order to attend the Baghdad regional summit.
He is scheduled to meet and negotiate with the high-ranking Syrian officials on bilateral ties and the latest regional developments.
Upon arrival in Damascus on Sunday, Amir Abdollahian described ties among Tehran, Baghdad and Damascus as strategic, saying that Iran and Syria have gained joint victories against terrorist groups.
"Iran-Syria-Iraq relations are strategic. I am proud to declare that I have made my first bilateral trip to Damascus," Amir Abdollahian told reporters.
"We have carried out joint actions and created common victories in the fight against terrorism and in the field. Today we are in Damascus to once again review bilateral relations in all areas, including economic, commercial and cultural fields, and all areas of mutual interest. We believe that today, due to determination of the two countries' leaders, Iran and Syria will take great steps together in the fight against economic terrorism and in helping the two countries' people," he added.
"We support the Syrian government, people and leadership," Amir Abdollahian underlined.