2021-October-23 02:28
Politics
2021-September-9  15:22
Iranian Army Commander: Israeli Leaders Feeling Death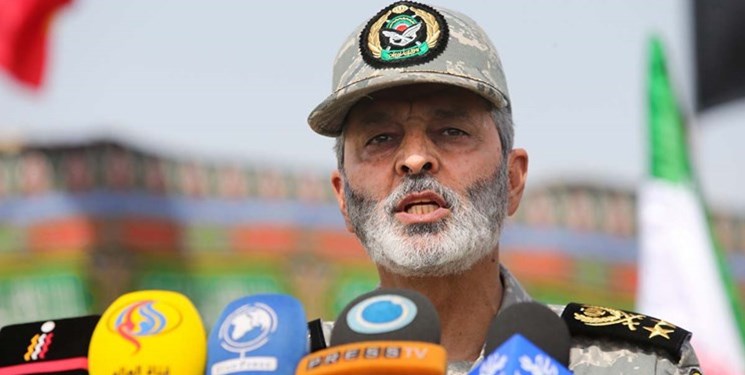 TEHRAN (FNA)- Iranian Army Commander Major General Abdolrahim Mousavi downplayed Israeli officials' claims that they have sped up plans to strike Iran, saying that they have likely felt the closeness of their annihilation and want to commit suicide.
"It looks like the heads of the Zionist regime have sensed the speed with which their lives are waning," General Mousavi said on Wednesday.
"Maybe, they want to commit suicide for fear of death," he added.
"They (the Zionists) have many areas of vulnerability," General Mousavi adding, "They have so far experienced many heavy defeats."
His remarks came a day after an Israeli official, Aviv Kohavi, alleged in an interview that the regime had "greatly accelerated" preparations for action against Iran's nuclear energy program.
He also purported that the regime had "greatly diminished Iran's presence" to the North of the occupied territories.
By suggesting suicidal tendencies on the part of the regime's officials, the commander was echoing repeated remarks by the Iranian military top brass and other senior figures that the regime must be contemplating its own demise if it entertained even the thought of attacking the Islamic Republic.
In relevant remarks in May, Iranian Supreme Leader's top adviser for international affairs Ali Akbar Velayati said that the challenges facing the Zionist regime have have cast serious doubt about its future and survival.
"Today, thanks to the efforts made by the Palestinian resistance groups against the Zionist regime and the security strategies that are on the agenda of the resistance front in the field to confront the regime, the survival of this usurper regime, which also faces serious challenges from inside, is in question as it is exposed to annihilation more than any other time," Velyati, also Secretary-General of the World Assembly of Islamic Awakening, said.
He referred to the past defeats of the occupying Zionist regime in Jerusalem, from the 33-day war to the Gaza war, and the failures in Syria and other regions, saying that realization of this strategic assessment of Supreme Leader of the Islamic Revolution Ayatollah Seyed Ali Khamenei that "the Zionist regime will not see the next 25 years" can be seen soon.