Society_Culture
2021-September-13  17:47
Iran Starts 3rd Clinical Trial Phase of Fakhra COVID-19 Vaccine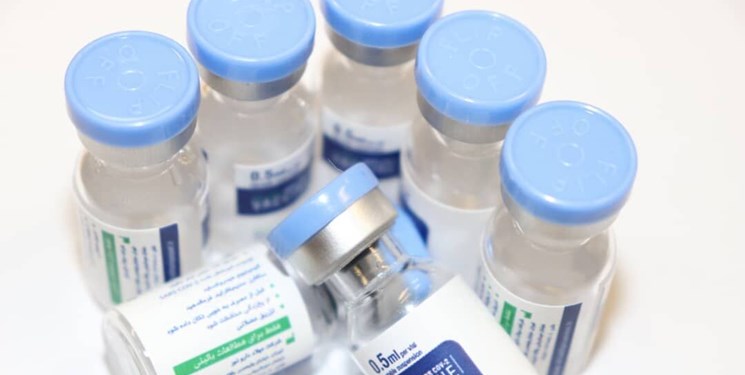 TEHRAN (FNA)- Iran officially started the third phase in the clinical trial of indigenous anti-coronavirus 'Fakhra' vaccine, named after the martyred scientist, Mohsen Fakhrizadeh and developed by the Iranian Defense Ministry's Research Center.
Head of the Defense Ministry's department of health, relief and treatment Reza Allahveran received a dose of the vaccine to kick off phase three.
The ceremony was also attended by Defense Minister Brigadier General Mohammad Reza Ashtiani and Health Minister Bahram Einollahi.
During the third phase of the clinical trial, which is expected to be concluded in three months, 40,000 volunteers will be injected with the Fakhra vaccine.
"We hope that soon, by conducting part of the phase three trial, we will receive the emergency use authorization for the Fakhra vaccine from the Food and Drug Administration so that we can deliver the produced vaccines to the Health Ministry to be included in the national vaccination basket," Allahveran said.
As many as 135 people got vaccine jabs during the first phase of the Fakhra coronavirus vaccine which began on March 16. The second phase saw 500 people receiving the vaccine beginning on June 9.
In a relevant development on Thursday, Brigadier General Ashtiani announced that 'Fakhra' vaccine was ready for emergency use. 
Fakhra coronavirus vaccine has begun the third stage of clinical trial and has been authorized by the heath ministry to start emergency use, General Ashtiani said during a visit to the production line of the vaccine.
He added that Fakhra has successfully undergone the first and second phases of clinical trial and would be used in the country's vaccination plan within the next few days.
General Ashtiani said that the Defense Ministry is currently capable of producing some one million doses of Fakhra vaccine on a monthly basis, emphasizing that with the finalization of the necessary infrastructure in the next three months, the amount of production would be multiplied.
Fakhra is an inactivated virus-based vaccine, and apparently requires two doses given by intramuscular injection 14 days apart.