Politics
2021-September-16  14:58
Iran Reiterates Support for Lebanon, Readiness to Help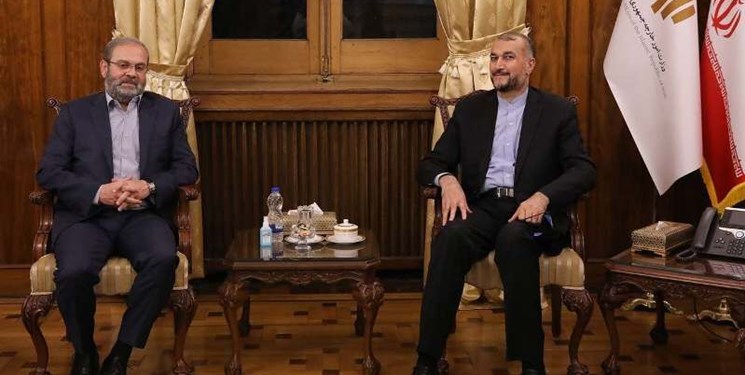 TEHRAN (FNA)- Iranian Foreign Minister Hossein Amir Abdollahian in a meeting with Hezbollah's envoy to Iran Abdallah Safieddin stressed his country's continued support for Lebanon and preparedness to supply its needs.
During the meeting in Tehran on Wednesday, Amir Abdollahian underlined the need for the further expansion of relations between Iran and Lebanon, voicing the country's readiness to meet different needs of Lebanon.
He congratulated the Lebanese people on the formation of a new government in the country, adding that the Iranian government under President Ebrahim Rayeesi pays due attention to providing support for the Axis of Resistance.
The honorable resistance of the Lebanese people against the Zionist and Takfiri enemies is a source of honor and pride for all the regional nations and the freedom-seekers across the world, Amir Abdollahian said.  
The Lebanese envoy, for his part, congratulated the Iranian foreign minister on his appointment to the post.  
Safieddin said that the Lebanese people are grateful for the Iranian support for their country during tough times.
He also thanked the Islamic Republic of Iran for selling the most needed fuel to Lebanon.
Tankers carrying Iran-sent fuel arrived in the Lebanese territories on Thursday, bringing joy to people who have been facing acute fuel shortage in the past few months.
A convoy of tankers loaded with Iranian mazut had entered the village of Hawsh al-Sayyed Ali in Lebanon's Northeastern Baalbek-Hermel province on Thursday, Lebanon 24 News reported.
The media director of the Lebanese resistance movement Hezbollah said that the tankers will first stop between the villages of Ain and Laboueh and that their last station would be the entrance to Southern Baalbek.
Speaking on Wednesday night, Hezbollah Secretary-General Seyed Hassan Nasrallah urged people not to gather to observe the convoy both for their own safety and the movement of the tankers.
Announcing that ships carrying Iranian fuel would set sail for Lebanon last month, Nasrallah warned that the Israeli regime and the US that the resistance group regarded the convoy as part of the "Lebanese soil."
In early September, the Iranian ships unloaded their fuel cargo at Syria's Baniyas port, from where it was transferred to Lebanon via tankers.
Lebanon has been mired since late 2019 in a deep financial crisis that has caused the Lebanese pound to lose around 90 percent of its value to the dollar.