World
2021-September-16  21:27
Report: 1 in 500 US Residents Died of COVID-19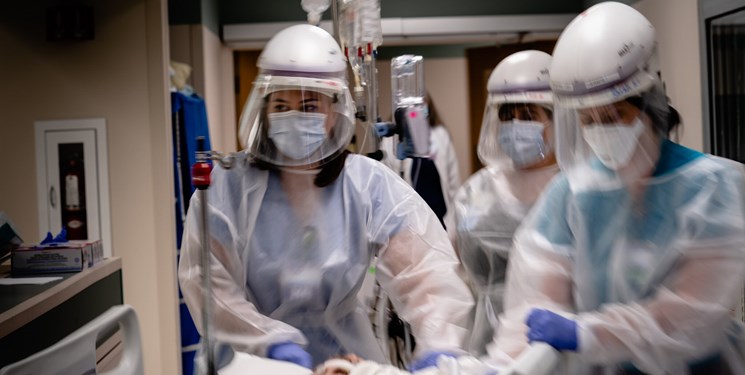 TEHRAN (FNA)- Roughly 1 in 500 US residents has died from COVID-19, according to an analysis of coronavirus data published by CNN on Wednesday, as the rate of new vaccinations declines amid the spread of the highly contagious delta variant.
New vaccinations are down 4 percent from last week and 28 percent from a month ago, according to the Centers for Disease Control and Prevention (CDC).
As of Tuesday evening, deaths due to COVID-19 in the US had reached 663,913, data compiled by Johns Hopkins University showed. The US had an average of more than 152,300 new COVID-19 infections each day over the past week, with average daily fatalities at 1,805.
About 54 percent of the total UD population has been fully vaccinated against COVID-19, with 63 percent receiving at least one dose, according to CDC data.
For Americans 12 and older, the segment of the population eligible to receive the coronavirus vaccine, 74 percent have gotten at least one dose, with roughly 63 percent fully vaccinated.
Federal, state and local health officials have continued to urge Americans to get vaccinated, noting that most of the people hospitalized or killed as a result of COVID-19 in recent months were not vaccinated.
President Joe Biden last week took his biggest step on requiring vaccinations by announcing that the Labor Department's Occupational Safety and Health Administration would be drafting a rule for all private employers with 100 or more workers to mandate vaccines or weekly testing.
The requirement, which is expected to impact nearly 80 million workers, came as the administration announced that all federal workers must be vaccinated, shifting from the previous policy in which government employees had the option to be tested regularly.
Republican officials at the state and national level have pushed back on the forthcoming mandate for the private sector. Arizona Attorney General Mark Brnovich (R) on Tuesday filed a lawsuit against the administration, arguing that the policy for private employers is "one of the greatest infringements upon individual liberties, principles of federalism, and separation of powers ever attempted by an American President".