2021-October-21 11:20
Politics
2021-September-21  14:39
Spokesman: No Iran-G4+1 Talks on Agenda in New York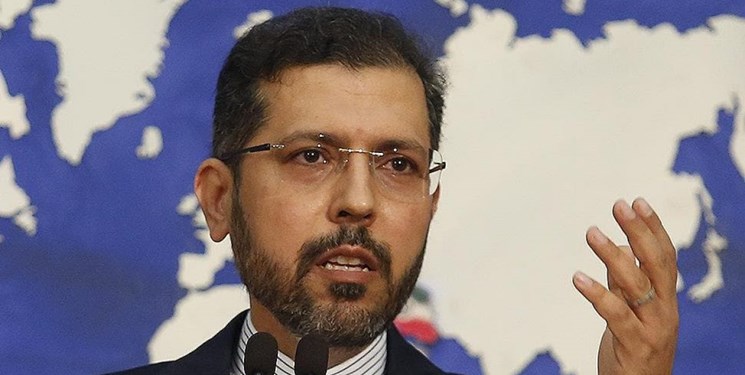 TEHRAN (FNA)- Iranian Foreign Ministry Spokesman Saeed Khatibzadeh said no collective meeting is scheduled between representatives of the country attending the UN General Assembly meeting in New York and their Group 4+1 (China, Russia, Britain and France plus Germany) counterparts.
Khatibzadeh's comments came after French Foreign Minister Jean-Yves Le Drian said on Monday that world powers and Iran were likely to meet on the sidelines of the annual gathering of world leaders at the United Nations later this week.
The spokesman dismissed any such multilateral meeting between the Iranian foreign minister and his G4+1 counterparts, though he said Hossein Amir-Abdollahian will discuss the nuclear deal in bilateral meetings with counterparts.
"Other foreign ministers have also already expressed this interest, and the nuclear deal will be one of the topics of our discussions with [individual] foreign ministers of the G4+1 who are in New York, but no meeting between Iran and the G4+1 is on agenda in New York," Khatibzadeh said.
Iran and the other five remaining parties to the nuclear deal signed between Tehran and world powers in 2015, officially known as the Joint Comprehensive Plan of Action (JCPOA), that is, Britain, France, Germany, Russia and China, have held six rounds of talks in Vienna to salvage the faltering agreement by bringing the US, as the violator of the deal, back into compliance.
In quitting the JCPOA in May 2018, the administration of former US President Donald Trump reinstated the sanctions on Iran that had been lifted under the accord, while mounting pressure on the country with new bans, as the other parties stood by and failed to protect Iran's contractual benefits.
During his first televised address to the Iranian people, Iran's President Seyed Ebrahim Raeyeesi dismissed the idea of holding negotiations over the JCPOA revival under pressure, saying such tactics have never yielded the US and Europe any result.
"Negotiation and dialog have always been and will continue to be part of the instruments that are in the service of diplomacy. We do not balk at negotiation and dialogue," he said, adding, "But the Americans and the Westerners are after negotiation in conjunction with pressure. This is while negotiations are there to avoid pressure."