2021-October-21 11:18
Politics
2021-September-21  16:03
President Rayeesi: Iran, UAE Need to Use Capacities for Developing Ties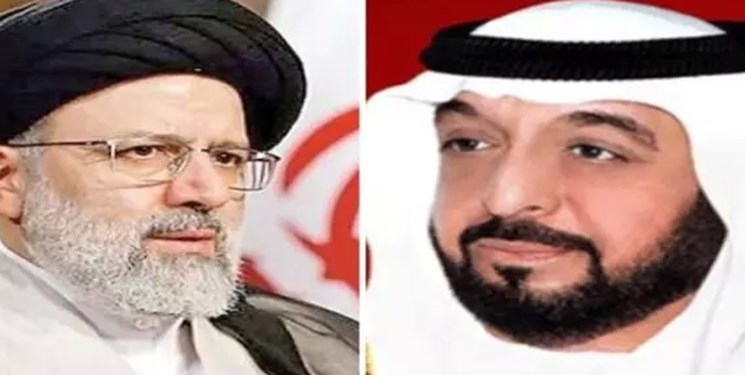 TEHRAN (FNA)- Iranian President Seyed Ebrahim Rayeesi in a message to his Emirati counterpart Khalifa bin Zayed al-Nahayan underlined that Tehran and Abu Dhabi have the needed potentials to expand mutual cooperation.
Rayeesi's message came in response to the Emirati president's congratulatory letter to his Iranian counterpart on his election as Iran's president.
The Iranian president expressed hope that bilateral relations between the two countries would develop, especially in the economic field, referring to the enormous potential of Iran and the UAE.
Appreciating his Emirati counterpart for this congratulatory message, Raeisi wished Khalifa bin Zayed Al Nahyan good health, success for the UAE, and happiness for the proud people of this neighboring country.
President Rayeesi underlined his country's policy of expanding relations with all the world states, specially the neighboring and regional countries.
Rayeesi made the remarks in a meeting with a group of families of martyrs in Tehran on Monday.
He underscored that overcoming many challenging tasks would be made possible by tapping into domestic capabilities.
"Unfortunately, we witnessed that certain people had stopped importing vaccines or even tied joining the Shanghai Cooperation Organization (SCO) to the approval of the FATF (Financial Action Task Force), and even insisted on their position in official meetings," Rayeesi said.
He added that during the short time since the inauguration of the 13th government in August, nothing special has happened to have led to an increase in the import of vaccines or the country's membership in the SCO.
"But our neighboring and friendly countries saw that we no longer focus only on the West and that (improving) relations with neighbors and regional countries has become a priority of Iran's foreign policy," Rayeesi stated.
In the path towards development, he emphasized, Iran sets no limitation to make use of various countries' experience "but we will be very careful to choose an appropriate version of progress that is in full compliance with the situation of the Islamic Iran".
The Shanghai Cooperation Organization (SCO) officially admitted Iran as a new member of the Eurasian political, economic, and security alliance at its 21st summit in Dushanbe, Tajikistan, on Friday.
"Perfectly pleased to announce that the permanent membership document of the Islamic Republic of Iran was approved by the leaders of the Shanghai Cooperation Organization in Dushanbe in the presence of our esteemed President," Iranian Foreign Minister Hossein Amir Abdollahian tweeted Friday.
"This strategic membership has an important impact on the process of comprehensive cooperation between Iran in line with the policy of neighborhood with and pivot to Asia," he added.
The 21st edition of SCO kicked off in Dushanbe, capital of Tajikistan on Friday.