Politics
2021-September-21  18:53
IRGC Commander: Iran Increasing Power to Defeat US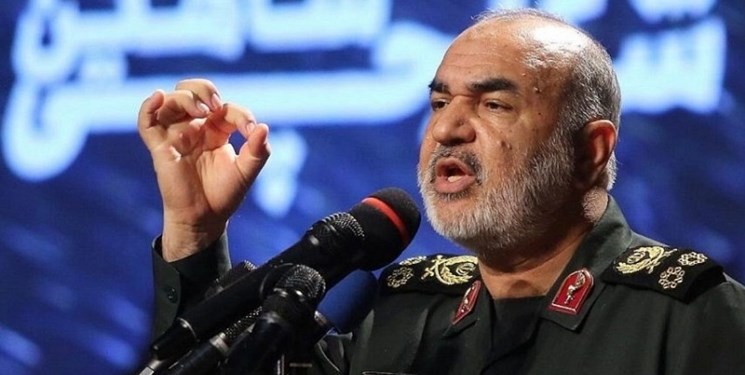 TEHRAN (FNA)- Commander of the Islamic Revolution Guards Corps (IRGC) Major General Hossein Salami said on Tuesday that Iran is bolstering its power to gain victory against Washington, noting that Israel is no more counted as a power.
"We have built power to defeat the US. When we build power for man's largest military empir, i.e. the US, small powers like the Zionist regime are no longer counted in our equations," General Salami said.
He underlined that the Iranian nation has managed to embrace victory against the US cruel sanctions and economic war as well as the psychological pressures and heavy media operations of Washington and other western powers, and defused enemies' plots.
In relevant remarks on Sunday, General Salami said that the US has lost its power and is a defeated, fugitive and depressed state which has been forced to withdraw its forces from the region.
"Today we no longer see a dangerous US, but we witness a failed, fleeing and depressed US," General Salami said.
General Salami also expressed delight that the Iranian nation's resistance too had helped them weather all pressures.
"Inside our own country, despite all natural or imposed pressures, the Iranian nation has been engaged in resistance [too]. And now, these obstacles are being removed, the adversities are giving way to easier times, and the roads are being paved," he said.
The entire world is now envying this nation that has been successfully standing up to great powers for more than four decades, the commander said.
"Iran's name is identified with grandeur, compassion, advancement, integrity, and unity," he stated, and also hailed the Iranian people's strong emotional bond with Supreme Leader of the Islamic Revolution Ayatollah Seyed Ali Khamenei.