Politics
2021-September-22  16:36
Iranian FM: Foreign Presence Contradicts Regional Peace, Security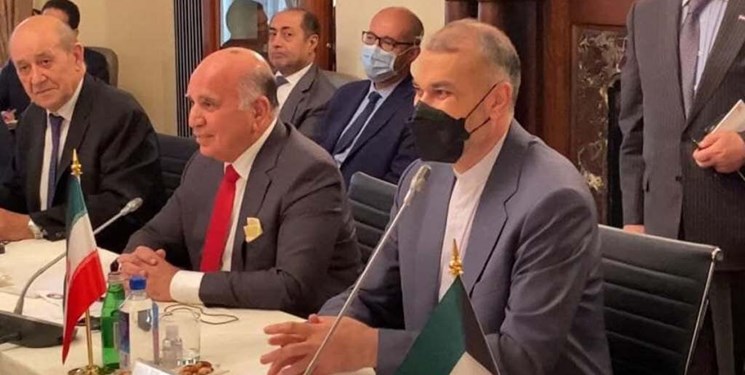 TEHRAN (FNA)- Iranian Foreign Minister Hossein Amir Abdollahian reiterated his country's opposition to the deployment of foreign forces in the region, saying that it runs counter to the regional states' quest for establishing peace and security.
Amir Abdollahian made the remarks on Tuesday afternoon, addressing the Baghdad Multilateral Meeting in New York which was also attended by foreign ministers and high representatives of Jordan, Saudi Arabia, Turkey, Kuwait, Qatar, Egypt, and France as well as EU foreign policy chief, secretary-general of Arab League, secretary-general of Islamic Cooperation Organization, secretary-general of Persian Gulf Cooperation Council and chaired by Iraqi foreign minister.
Amir Abdollahian highlighted the role of diplomacy and dialogue in overcoming crises and solving disagreements, saying that in absence of dialogue and negotiation, all the sources and opportunities would be spent on militarism.
Noting that Iran has always emphasized intra-regional dialogue, he said that contemporary history of West Asia indicated that external variables have been the main hurdle against integration and development in the region.
Foreign presence and interference in any form contrasts main goals of peace and security, as well as sovereignty of states in the region, Iran's top diplomat stressed, proposing fighting against terrorism and drug trafficking, energy sector, maritime navigation, security and environmental crises as areas of cooperation that countries in the West Asia region could base a dialogue on.
He underlined Iran's support for Iraq's security, stability, and development, and said that the new administration in Iran prioritized expansion of ties with neighbor countries and regional states.
Attendees in the meeting agreed to hold a second edition of Baghdad Conference for Cooperation and Partnership in Jordan. The first conference was on August 28 in Baghdad.
In the final statement, they once again reaffirmed their support for Iraqi nation and government and emphasized the importance of general election due to be held on October 10.
In relevant remarks earlier this month, Commander of the Islamic Revolution Guards Corps (IRGC) Navy Rear Admiral Alireza Tangsiri said that the Persian Gulf region needs no foreign forces' deployment and the regional states are able to safeguard their security.
"As we have reiterated many times, there is no need to the presence of foreigners to protect and maintain security in the Persian Gulf, and the regional countries can defend their resources and interests well," Rear Admiral Tangsiri said during a visit to Naze'at zone in Southern Iran which includes four Iranian islands of Abu Musa, Sirri, the Greater Tunb and the Lesser Tunb in the Persian Gulf.
"We are Muslims and we are friends and brothers and we do not need the presence of aggressive and foreign countries in the region," he added.