2021-October-21 11:43
Politics
2021-September-23  16:28
Syrian FM Underlines Implementation of Agreements with Iran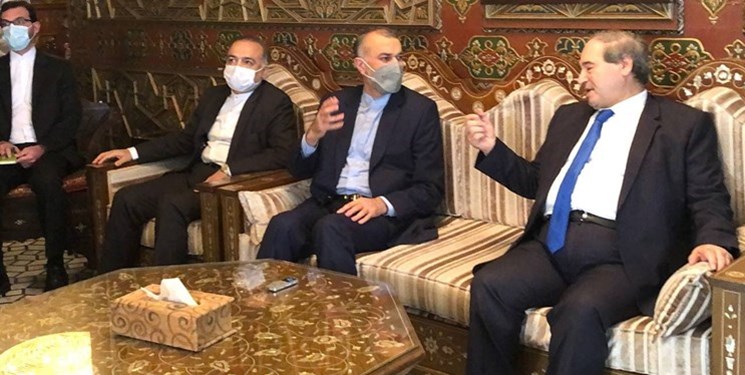 TEHRAN (FNA)- Syrian Foreign Minister Faisal al-Mikdad in a meeting with his Iranian counterpart Hossein Amir Abdollahian stressed the need for implementation of all agreements between the two countries.
During the meeting held in New York on Wednesday on the sidelines of the UN General Assembly, the two ministers exchanged views on Tehran-Damascus bilateral relations.
Al-Mikdad presented a report on the latest status of developments in his country, and appreciated the Islamic Republic of Iran's supports for Damascus.
He referred to Amir Abdollahian's recent visit to Damascus, and voiced Syria's readiness for implementing the reached agreements during that visit.
Amir Abdollahian, for his part, emphasized the that Islamic Republic of Iran's support for the resistance continues, adding that foreign interference in that country is against the Syrian people and government's will.
The top Iranian diplomat said that bilateral economic ties need to be elevated and the agreed plans must be implemented.
He also invited his Syrian counterpart to visit Tehran at his earliest convenient opportunity.
The Iranian foreign minister also asked for paving the required path for the presence of the Iranian economic activists, merchants and private sector in Syria.
Amir Abdollahian and Syrian President Bashar Assad in a meeting in Damascus last month had also underlined the need to activate the joint economic commission between the two countries.
During the meeting in the Syrian capital, Amir Abdollahian and President Assad called for broadening of economic cooperation between the two countries through joint economic commission and other existing related mechanisms.
During the meeting, Amir Abdollahian congratulated President Assad on holding a successful presidential election.
The Iranian foreign minister also briefed President Assad on the Iraqi summit in which he attended a day before.
The Syrian president, for his part, thanked Iran's support for his country and outlined his views on bilateral ties and also cooperation between Tehran and Damascus regarding regional and international issues.