Politics
2021-September-25  17:03
Iranian Commander: US Hand-Made Armies in Iraq, Afghanistan Collapsed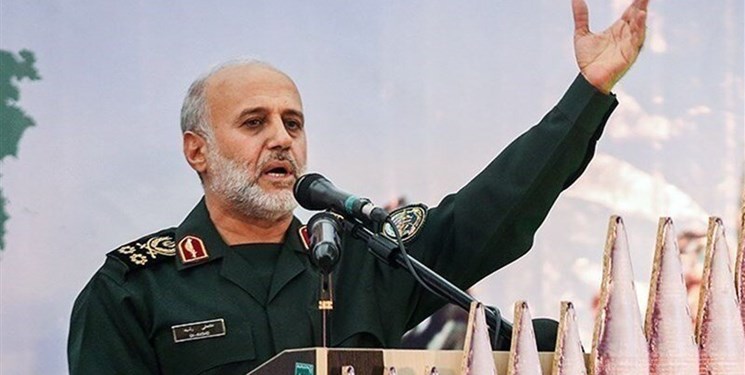 TEHRAN (FNA)- Commander of Khatam ol-Anbia Headquarters Major General Gholam Ali Rashid said that the armies trained by the US military men in Iraq and Afghanistan have fallen down.
"Today we see that no one can fight (defend his/her country) by the thinking and method of the Americans as the US hand-made armies collapsed in Iraq against the ISIL and in Afghanistan against Taliban," General Rashid said on Saturday.
Elsewhere, he underlined that the US fears the independent Iran's defense power, saying that the Armed Forces of the Islamic Republic of Iran represent the only power in Southwest Asia, which has defined its defensive policies independent of foreign and dominant powers.
"The concerns, pressures and excuses raised by the enemies against our missile power which includes the Islamic Republic of Iran's precision-striking and warship-striking missiles, is due to the fact that Iran has independently grown a missile power," General Rashid said.
In relevant remarks earlier this month, General Rashid in a meeting with new Iranian Defense Minister Brigadier General Mohammad Reza Ashtiani called for more efforts to develop advanced weapons with the capability to surprise enemies.
"God willing, you will take large steps in order to fulfill the orders of the commander-in-chief of the Armed Forces (Ayatollah Khamenei), with a revolutionary and jihadi approach, to develop defensive and offensive capabilities, specially in priority areas, and produce weapons with advanced technologies and surprising capabilities for battling enemies," General Rashid said.
He also expressed the hope that the level of interactions between the Army and the Islamic Revolution Guards Corps (IRGC) would further enhance during General Ashtiani's tenure.
Also this month, Commander of the IRGC Aerospace Force Brigadier General Amir Ali Hajizadeh announced plans to broaden cooperation with the Defense Ministry to enhance Iran's missile power.
General Hajizadeh made the remarks in a meeting with General Ashtiani.
General Hajizadeh stressed the need for further cooperation, and said, "The Defense Ministry can play an effective and decisive role in enhancing the defense power of the IRGC's aerospace force."
"God willing, cooperation in the field of upgrading the IRGC missile power will be expanded during the new term of the Defense Ministry," he added
General Ashtiani, for his part, voiced his ministry's readiness to interact and cooperate closely with the IRGC's Aerospace Force.
"With the extensive industrial and production capacities and platforms in the Ministry, we will be able to take big steps toward providing and meeting the defense and military needs of the Armed Forces, especially the IRGC's Aerospace Force," he said.