World
2021-September-26  12:44
Thousands March for Scottish Independence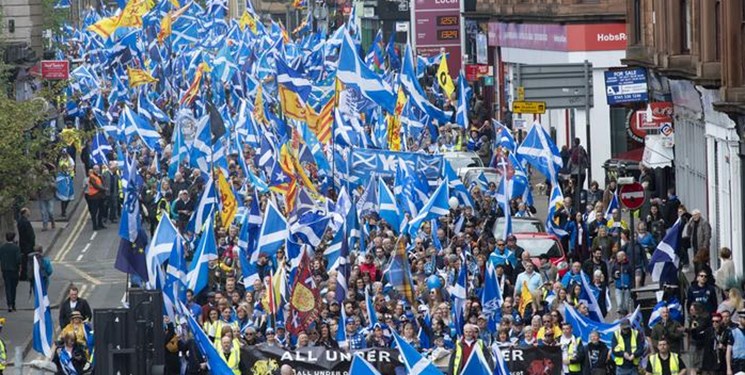 TEHRAN (FNA)- A pro-Independence march and rally through the streets of Scotland's capital was attended by 5000 people, organisers said.
All Under One Banner (AUOB) made the announcement on Twitter on Saturday afternoon, The National reported.
The march set off from the Royal Commonwealth Pool after midday.
It later ended in a rally at the Scottish Parliament.
Plans to start from other locations, such as Calton Hill, had to be changed after a dispute with police and the council.
Pipes, drums, banners, and flags were all part of the display.
Yes Bikers also supported the march.
AUOB wrote on Twitter, "We are proud to announce that around 5000 independence supporters have participated in today's All Under One Banner demonstration in Scotland's Capital City."
"Defend the right to peaceful protest, the fight for independence is on!" AUOB added.
The group later told The National, "Today was a massive success as we re-established the AUOB demonstrations after an aeon of lockdowns with a tremendous march and rally through our Capital City."
"It was beautiful to see the vibrant diversity of the Yes movement, everyone together as one marching for independence now - with banners, placards and symbols that made explicit the depth and breadth for our common cause," it added.
"We are extremely happy with how today went and look forward to returning to Edinburgh on a march hundreds of thousands strong through the City Centre," the group said.
"Next up is #AUOBCOP26 on November 6, let's see a maximum attendance of Yes supporters for an independent, cleaner, greener Scotland which tackles the need for emergency climate action now," it added.
"The fight for independence is on!" the group said.
Police Scotland told The Scotsman that no figure was available for the number of people attending the march.