2021-October-21 11:33
Politics
2021-September-27  14:38
Iranian President: No Limit for Expansion of Ties with Sri Lanka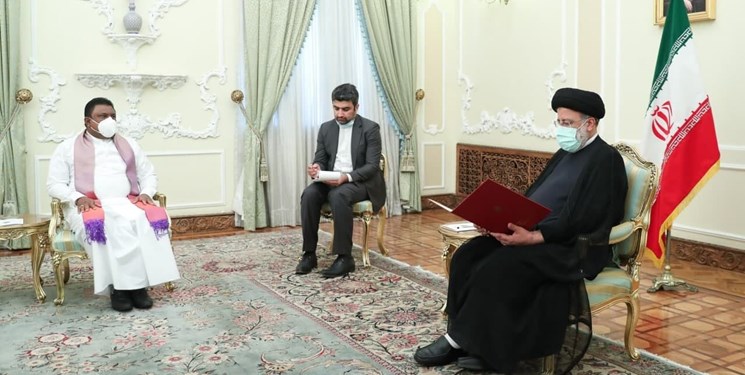 TEHRAN (FNA)- Iranian President Seyed Ebrahim Rayeesi underlined Tehran's interest in the further broadening of relations and cooperation with Sri Lanka.
Iran feels no limit for further promotion of economic and trade relations with Sri Lanka, Rayeesi said in a meeting in Tehran with new Sri Lankan Ambassador to Iran Wishwanath Aponsu where the new ambassador submitted his credentials to the Iranian president.
He expressed the hope that the two countries would take new steps towards enhancement of relations with the launch of a joint economic cooperation commission.
Aponsu, for his part, referred to age-old relations between the two countries, saying Sri Lanka has always supported the Iranian government and nation in international organizations.
He also called for further expansion of mutual cooperation in different energy, trade and commercial areas.
Iran has prioritized ties with the neighboring and Asian states.
Earlier this month, the Shanghai Cooperation Organization officially admitted Iran as a new member of the Eurasian political, economic, and security alliance at its 21st summit in Dushanbe.
The SCO consists of nine permanent member states, including Iran, India, Kazakhstan, China, Kirgizstan, Pakistan, Russia and Uzbekistan. Three states of Afghanistan, Belarus, and Mongolia are still observer members and six countries of Azerbaijan, Armenia, Cambodia, Nepal, Turkey, and Sri Lanka are dialogue partners.
The Shanghai Cooperation Organization is an effective regional and intra-state organization, which was established by leaders of China, Russia, Kazakhstan, Tajikistan and Uzbekistan in 2001.