Politics
2021-October-1  19:31
Iran: Israeli Regime's Dream Never to Come True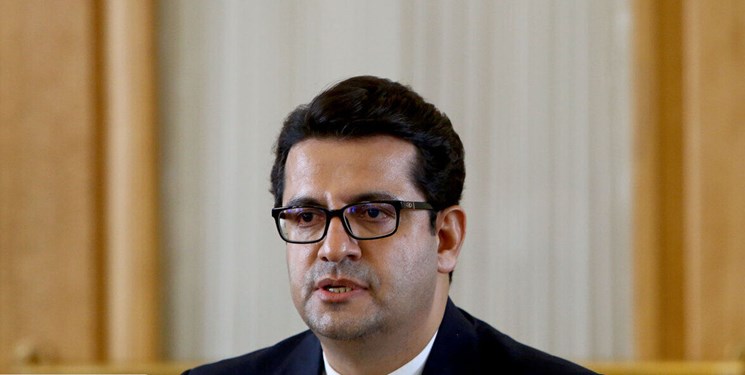 TEHRAN (FNA)- Iranian Ambassador to Baku Seyed Abbas Mousavi blasted the remarks by Israeli envoy to Azerbaijan, saying that the dreams of the child-killing regime of Israel for the Middle East region will never come true.
Mousavi's remarks came in reaction to the recent anti-Iran allegations by Israel's envoy in Baku.
"We have special respect for all Jews, Christians, and other followers of the divine religions; But we are sure that the Republic of Azerbaijan and Palestine will remain Islamic countries forever," Mousavi wrote in his Twitter account on Friday.
"The dreams of Zionism for this region will never be interpreted," he added.
In relevant remarks earlier on Friday, Iranian Foreign Ministry Spokesman Saeed Khatibzadeh strongly condemned a visit by the Israeli regime's foreign minister, Yair Lapid, to the Bahrain capital of Manama, and said the visit put lasting stain on tiny Persian Gulf country.
"Bahrain's despicable welcoming of Israeli foreign minister (Yair Lapid) to Manama is at odds with the will of the Bahraini people," Khatibzadeh said.
The Iranian foreign ministry reiterated that the visit left an "unremovable stain" on the reputation of that country.
Lapid arrived in Bahrain on Thursday to open the Israeli regime's embassy in Manama and sign cooperation deals with the Arab country.
Khatibzadeh lamented Bahrain's ignoring of the Zionist regime's daily atrocities against the oppressed yet resistant people of Palestine.
"Such actions will not give a boost to the legitimacy of the Zionist regime and will not affect the ideal of liberating al-Quds al-Sharif as the first qibla of the world's Muslims," he said.
The spokesman also emphasized that Bahraini rulers will not be able to remove the mark of disgrace.
"The people of the region will continue to oppose the process of normalization of relations with the Zionist regime," he added.
On Thursday night, Bahraini people staged protests against Lapid's visit, holding placards condemning normalization with Israel.
The protesters shouted "Down with Israel" and "Get out of Bahrain" to protest the normalization of ties with Israel, local media reported.
Palestinians have denounced the so-called Abraham Accords, calling them a "backstab" and a betrayal of their cause.