2021-October-16 16:34
Politics
2021-October-7  23:18
IRGC Commander: US Disgracefully Fled Afghanistan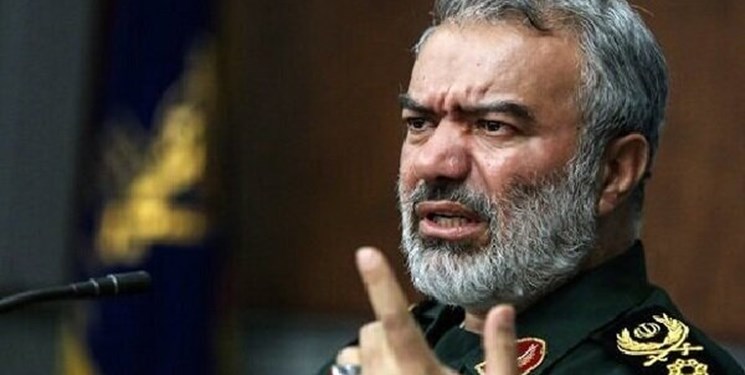 TEHRAN (FNA)- Deputy Commander of the Islamic Revolution Guards Corps (IRGC) Rear Admiral Ali Fadavi blasted the US for its occupation of Afghanistan and its hasty escape from that country.
"The US was defeated in Afghanistan and fled the country in the worst possible way," Admiral Fadavi said.
He reiterated that the recent developments in Afghanistan and withdrawal of the US troops from that country promise the defeat of the United States in international arenas.
"Everyone should focus on the fact that the United States failed and fled Afghanistan in the most scandalous way possible," Admiral Fadavi added.
In relevant remarks in late September, Commander of Khatam ol-Anbia Headquarters Major General Gholam Ali Rashid said that the armies trained by the US military men in Iraq and Afghanistan have fallen down.
"Today we see that no one can fight (defend his/her country) by the thinking and method of the Americans as the US hand-made armies collapsed in Iraq against the ISIL and in Afghanistan against Taliban," General Rashid said.
Elsewhere, he underlined that the US fears the independent Iran's defense power, saying that the Armed Forces of the Islamic Republic of Iran represent the only power in Southwest Asia, which has defined its defensive policies independent of foreign and dominant powers.
"The concerns, pressures and excuses raised by the enemies against our missile power which includes the Islamic Republic of Iran's precision-striking and warship-striking missiles, is due to the fact that Iran has independently grown a missile power," General Rashid said.