Politics
2021-October-8  17:11
FM: US, Europe's Practical Acts, Removal of Sanctions Matter to Iran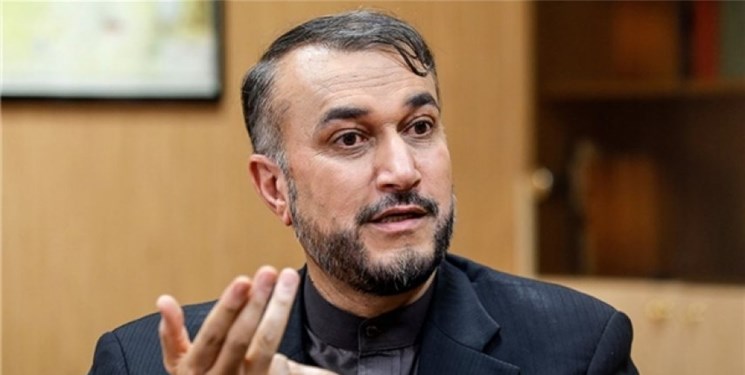 TEHRAN (FNA)- Iranian Foreign Minister Hossein Amir Abdollahian said that Iran does not pay attention to the oral messages and promises by the US and Europe, adding that only their practical moves and lifting of sanctions are important to the country.
"If there is real intention on the part of the other sides and all of them return to their commitments, Iran will return to its commitments as well," Amir Abdollahian told reporters after a meeting with his Lebanese counterpart Abdallah Bou Habib in Beirut on Thursday.
"However, in this regard, the US oral messages are not our criterion," he added.
"The unfulfilled promises of the three European countries are not our criterion. We will act in accordance with the other sides' practical actions, the removal of the sanctions and their return to their commitments."
Amir Abdollahian maintained that although Iran accepts negotiations as a principle, it only pays attention to talks that secure the Iranian nation's rights and interests.
"In the nuclear agreement, Iran is the only country that remained committed until the very end and we will revive this approach if there is reciprocation from the other sides," he said. 
Earlier, the top Iranian diplomat had urged Washington to release some of Iran's blocked funds as a positive signal that would translate into tangible outcomes for the Iranian people, instead of constantly messaging Iran to come back into the Vienna talks.
"The Americans have been constantly looking for connections and sending messages [to Iran]," he said, adding, "If the Americans have the stated intention, they should release some of Iran's blocked funds."
Elsewhere in his Thursday remarks, Amir Abdollahian said Iran is ready to build two power plants in Lebanon, one in Beirut and the other in the South of the country, in a period of less than 18 months.
"We would do this quickly as part of a joint venture between Lebanese and Iranian investors and sharing Iranian technical engineering services [with Lebanon]," he said.
He also stressed that the Islamic Republic is prepared to help Lebanon overcome the economic crisis it is facing.
The fate of the nuclear deal, officially called the Joint Comprehensive Plan of Action (JCPOA), was put in limbo after former US President Donald Trump withdrew Washington from it in 2018 and reinstated harsh economic sanctions against Iran.
Following Washington's departure from the agreement, the remaining parties to the JCPOA have launched negotiations in the Austrian capital, Vienna, to revive the deal and bring the US back into full compliance with all of its contractual commitments.
However, the talks have been paused after the election of Ebrahim Rayeesi as Iran's president, with the new administration declaring that Tehran will engage in talks that are only aimed at reaching tangible outcomes, particularly the removal of all US sanctions.
In the meantime, the European trio, France, Britain and Germany, have joined the US calls on Iran to resume the negotiations as soon as possible.