Politics
2021-October-18  11:25
Iranian Navy's Flotilla in Oman's Salalah Port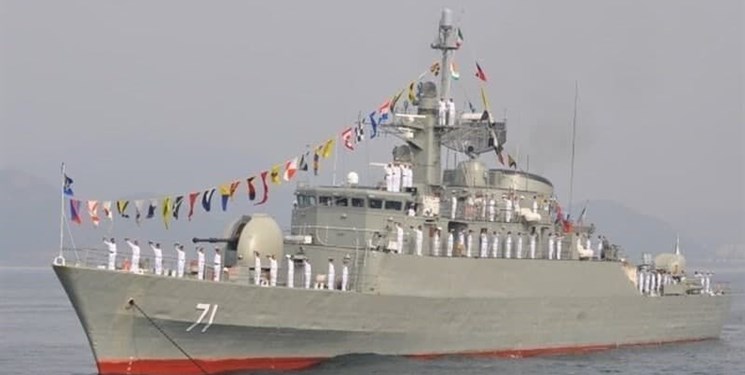 TEHRAN (FNA)- Commander of the Iranian Army's naval forces Rear Admiral Shahram Irani said that the Navy's 77th Fleet has docked at the Salalah Port of Oman.
"One of the most important goals of sending naval fleets to high waters is to secure the transportation and shipping lines of the Islamic Republic of Iran," Admiral Irani said.
He pointed out that the purpose of docking of the Iranian navy fleet at Salaleh port is to send the message of peace and friendship and establish security in the region.
In a relevant development on Saturday, Admiral Iranian announced that an Iranian warship successfully thwarted a pirate attack on an Iranian oil tanker in the Gulf of Aden following a heavy exchange of fire.
"The 78th naval fleet of the Islamic Republic of Iran, consisting of the Alborz destroyer, was attacked by five pirate boats this morning while escorting two Iranian tankers," Admiral Irani said while describing the incident as maritime terrorism.
The pirates, in five speedboats, attacked the Iranian oil vessel early Saturday to hijack it but they were forced to escape following a heavy exchange of fire with the Iranian Navy's 78th flotilla of warships.
The commander said the pirates were forced to flee as the Iranian Navy's 78th flotilla intervened. 
"With the timely action of the army marines, the two tankers safely passed through the Gulf of Aden, and now our country's ships and that of other countries are passing through this area in total security, and so far no specific case has been reported in this area," he added.
Iran's Alborz destroyer was deployed to international waters in August to protect naval routes and maintain security for Iranian cargo ships.
The Iranian Navy has been conducting patrols in the Gulf of Aden since November 2008 in line with international efforts against piracy, safeguarding merchant containers and oil tankers owned or leased by Iran or other countries.
Iran's Navy has managed to foil several attacks on both Iranian and foreign tankers during its missions in international waters.