Politics
2021-October-22  18:15
Iran, Indonesia Discuss Afghanistan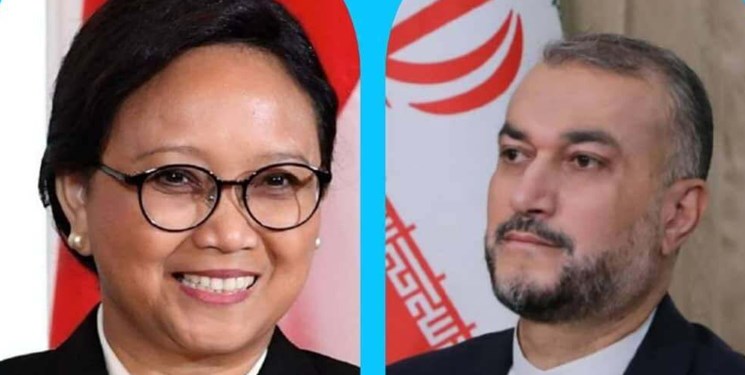 TEHRAN (FNA)- Iranian Foreign Minister Hossein Amirabdollahian and his Indonesian counterpart Retno Marsudi in a telephone conversation discussed the current situation in Afghanistan, and called on the international community to pay heed to Afghan refugees' worrying conditions.
During the phone talk, Amir Abdollahian and Marsudi discussed the latest developments in Tehran-Jakarta relations, as well as regional and international developments, the situation in Afghanistan in particular.
Referring to the Taliban's responsibility in providing security for Afghan ethnic groups and followers of various Islamic sects, the Iranian foreign minister underlined the significance of the formation of an all-inclusive government in Afghanistan.
He, meantime, pointed to the agreements reached between Iran and Indonesia in New York during his recent meeting with the Indonesian foreign minister, and said Tehran is making an effort to expand and strengthen relations with Jakarta.
Retno Marsudi, for her part, emphasized the need looking after Afghan refugees as a human duty that calls for international attention.
The top Indonesian diplomat also invited  her Iranian counterpart to visit Jakarta.
She welcomed the idea of deepening all-out ties between Iran and Indonesia, saying the Indonesian government has issued necessary instructions to state organizations in this regard so that defined bilateral projects are finalized and put into practice at a proper pace.
In a relevant development earlier this month, Iranian President Seyed Ebrahim Rayeesi blasted the West for giving the mission of destroying the neighboring Afghanistan to the ISIL terrorist group, and called on the Taliban to ensure establishment of security in that country by using all available capacities.
The Iranian president made the remarks while appointing Hassan Kazzemi Qomi as his special envoy for Afghanistan affairs during cabinet meeting.
President Rayeesi, meantime, condemned the recent attacks on Muslims and mosques in the cities of Kunduz and Kandahar which resulted in death and injury of hundreds of people, and said, "Such attacks are carried out with the purpose of creating discord, war and bloodshed in Afghanista."
The Iranian president reiterated that the rising number of terrorist acts are in line with the destabilizing policy by the US in Afghanistan.
President Rayeesi renewed Iran's suport for Afghan people, and said, "The Islamic Republic is ready to help Afghanistan to restore security and stability to that country."
More than 60 people were killed in three back-to-back explosions that hit the Bibi Fatima mosque during Friday prayers, one of the biggest blasts in Kandahar. It came just a week after a bomb attack killed more than 150 people and left scores of others injured at a Shia mosque in the northeastern city of Kunduz.
A local branch of the ISIL Takfiri terrorist group has claimed responsibility for both terrorist attacks.
Earlier this mont, the Iranian foreign ministry in a statement condemned as an anti-human crime the terrorist attack in Kandahar, underlining the need for unity among Shia and Sunni Muslims to counter divisive plots by enemies.