Politics
2021-October-24  11:39
Iran, Azerbaijan Stress Expansion of Ties, Resolution of Differences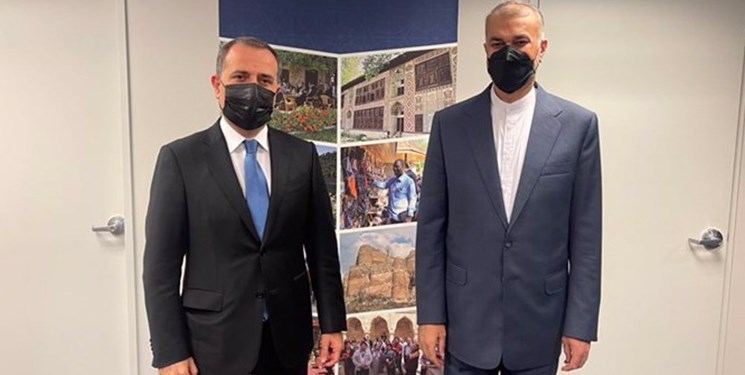 TEHRAN (FNA)- Iranian Foreign Minister Hossein Amir Abdollahian and his Azeri counterpart Jeyhun Bayramov in a phone conversation discussed the latest developments in bilateral ties with emphasis on resolving the differences and development of relations.
During the phone call on Saturday, Amir Abdollahian said the release of the two Iranian drivers, detained on accusations of trespassing into Azerbaijan territories, was a "constructive" measure that could prepare the necessary ground for resolving misunderstandings between the two countries.
He also called for more positive steps toward settlement of possible issues between the two countries and the facilitation of the Iranian trucks' traveling in the border areas with Azerbaijan.
Azerbaijan on Thursday released two Iranian truck drivers whose arrest last month strained ties between Baku and Tehran.
The truck drivers were detained on accusations of trespassing into territories that were liberated last year after nearly three decades of occupation by pro-Armenian forces.
The move marks a thaw between the two countries a week after their foreign ministers agreed to resolve the issue through dialogue.
Amir Abdollahian also said that Tehran and Baku need to adopt a positive and forward-looking approach and called for the activation of the joint economic commission between the two countries as soon as possible.
The Azerbaijani foreign minister, for his part, welcomed the positive steps taken by the two countries to resolve the misunderstandings.
Bayramov stressed the importance of implementing joint economic projects between the two countries, which he said would result in positive outcomes, and called for the joint economic commission to resume work.
In a phone call focusing on latest developments in bilateral ties on October 12, Amir Abdollahian had told Azerbaijan's foreign minister that any concerns or issues between Tehran and Baku must be resolved through dialogue and cooperation, and also in a calm and friendly atmosphere.
The phone conversation came as the Iranian foreign minister had previously sounded a warning concerning certain provocations by the Israeli regime near Iran's borders in Azerbaijan.
Also, speaking at a joint press conference with his Armenian counterpart Ararat Mirzoyan in Tehran on October 4, the Iranian foreign minister said the Israeli regime's presence in the region is a cause for serious concern, stressing the importance of resolving regional problems without foreign interference.