Politics
2021-October-27  18:17
President Rayeesi Calls for Broadening of Ties with Turkmenistan, Pakistan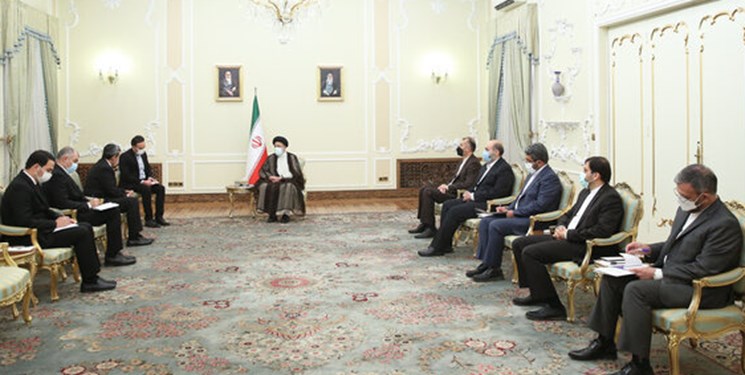 TEHRAN (FNA)- Iranian President Seyed Ebrahim Rayeesi in separate meetings with Turkmen and Pakistani foreign ministers underlined the need for the further expansion of mutual cooperation with those countries.
"I thank Turkmenistan for its cooperation and support for Iran's permanent membership in the Shanghai Cooperation Organisation (SCO)," President Rayeesi said in a meeting with Turkmen Foreign Minister Rashid Meredov in Tehran.
"Relations between Iran and Turkmenistan are beyond political and economic relations and stem from the heart and belief between the two nations and the level of these relations should increase day by day," he added.
Pointing out that the capacity to expand Tehran-Ashgabat relations is far beyond the current level, the President said, "Increasing the level of relations by activating cooperation capacities in various fields, specially transit and energy, is in the interest of the two nations and the region."
In his meeting with Pakistani Foreign Minister Shah Mahmoud Qureshi, the Iranian president said, "Iran sees no restrictions on increasing economic and security relations with Pakistan."
Referring to the meeting of foreign ministers of Afghanistan's neighbouring countries hosted by Iran, the President said, "We hope this meeting can expel the Americans from the region and find a solution to solve Afghanistan's problems."
The Pakistani foreign minister, for his part, said during the meeting, "There is a feeling between the people of Iran and Pakistan as Afghanistan's neighbours to work for national peace and reconciliation in the country."
Iranian Foreign Ministry Spokesman Saeed Khat‌ibzadeh announced earlier on Tuesday that the second foreign ministerial meeting of neighbors of Afghanistan plus Russia would be held here on Wednesday.
He said that Iranian President Seyed Ebrahim Rayeesi would inaugurate the meeting and deliver a speech.
The meeting is underway with the participation of foreign ministers of six neighbors to Afghanistan.
The Uzbek, Tajik, Turkmen and Pakistani foreign ministers are taking part in person while the Chinese and Russian foreign ministers will attend the meeting online.
The representatives from Beijing and Moscow are also present in the meeting.
Secretary-General of the United Nations Antonio Guterres will dispatch a message to the Tehran important meeting.