Politics
2021-October-30  11:57
Iran: Biden's Administration Not Trustworthy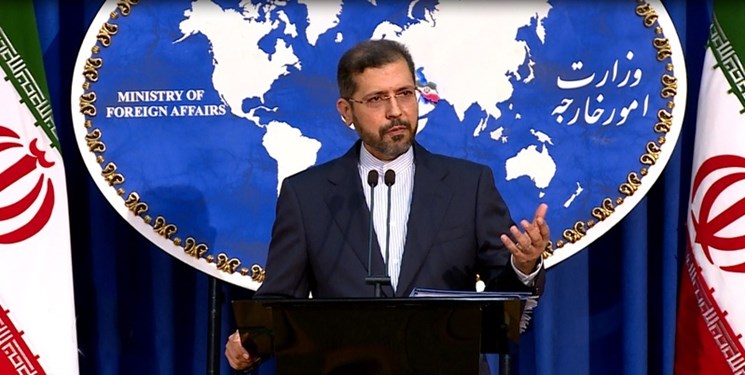 TEHRAN (FNA)- Iranian Foreign Ministry Spokesman Saeed Khatibzadeh blasted the US President Joe Biden's administration as untrustworthy for pursuing a dual policy of continued sanctions against Iran along with speaking of return to the nuclear deal.
"The imposition of new sanctions exposes the quite contradictory behavior of the White House," Khatibzadeh said on Friday.
He added that an administration that speaks about its intention to return to the JCPOA – the nuclear deal officially known as the Joint Comprehensive Plan of Action – and continues the same policy of former President Donald Trump "is sending the message that is not trustworthy at all".
The Iranian official noted that different US administrations have proved they have no discerning eye for realities in Iran.
"Such US measures are in continuation of the Trump administration's failed 'maximum pressure' policy and the country's unlawful and cruel sanctions", which would bring Washington "nothing but new failures" as in the past, he added.
"These pressures and sanctions will fail to undermine the Islamic Republic of Iran's determination to defend security and peace of the noble Iranian people. Tehran will continue the path of sustainable economic development with strength."
On Friday, the US Treasury Department imposed a fresh round of sanctions on four individuals and two entities allegedly involved in promoting the Unmanned Aerial Vehicle (UAV) programs of Iran's Islamic Revolution Guards Corps (IRGC) and its Quds Force, despite Washington's claims to be serious in rejoining the nuclear deal and removing sanctions against the country.
OFAC also imposed sanctions on Commander of the IRGC's Aerospace Force (IRGC ASF) UAV Command Saeed Aqajani over an alleged role in an attack on the commercial shipping vessel Mercer Street off the coast of Oman on July 29, which resulted in the death of two crewmen. It claimed Aqajani was also behind a drone attack against a Saudi oil refinery in 2019. Iran has denied the accusations as baseless.
The US re-introduced sanctions against Iran in 2018 after leaving the Joint Comprehensive Plan of Action (JCPOA), a historic nuclear agreement that had lifted the inhumane economic bans in return for some voluntary restrictions on Iran's peaceful nuclear energy program.
Following a year of strategic patience, Iran resorted to its legal rights stipulated in Article 26 of the JCPOA, which grants a party the right to suspend its contractual commitments in case of non-compliance by other signatories and let go of some of the restrictions imposed on its nuclear energy program.
Iran and the remaining parties to the JCPOA have held six rounds of talks in Vienna, which began after the US administration of Joe Biden voiced a willingness to rejoin the nuclear agreement, to examine the prospect of the bans' fresh removal.
The talks were, however, put on hold in the run-up to Iran's presidential elections in June so that the Islamic Republic could go through a period of government transition.