Politics
2021-November-7  12:50
Senior Commander Warns Enemies Not to Test Iran's Power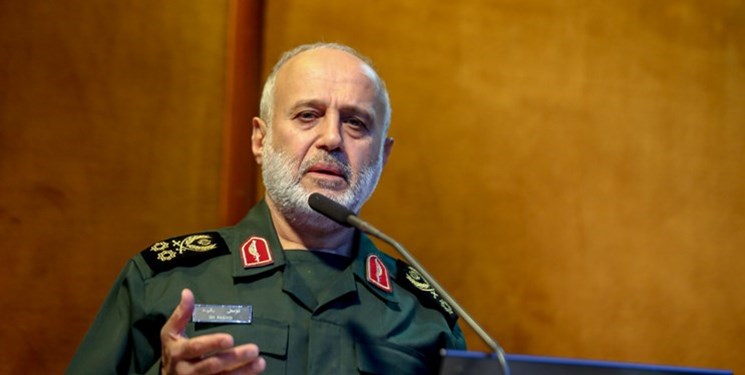 TEHRAN (FNA)- Commander of Khatam ol-Anbia Headquarters Major General Gholam Ali Rashid cautioned the enemies of Iran not to test the will and power of the Iranian Armed Forces.
The enemies should refrain from testing the power of the Army and IRGC, General Rashid said, addressing the Army commanders during the 'Zolfaqar 1400' military drills on Sunday.
He stressed the capabilities and combat readiness of the Iranian, and said, "The Iranian Army and Armed Forces are always ready for a strategic, operational and tactical confrontation with the aim of maintaining the security, stability and territorial integrity of Iran against the coalition of enemies (specifically the US-Zionist coalition)."
Iranian Armed Forces, including IRGC and Army forces, will respond decisively to any threats by any arrogant and aggressor power at any level and from the origin of any country, General Rashid underlined. 
He stated that the Iranian Armed Forces have got familiar with the components of power and the ways how to use them during the Iran-Iraq war, warning the enemies to refrain from testing the strength of the will and power of the Army and IRGC.
Iranian Army's Deputy Commander for Coordination Rear Admiral Habibollah Sayyari announced that the main phase of the Army's Zolfaqar 1400 drills would start on Sunday with the participation of four units.
"The main and operational phase of the Zolfaqar 1400 joint exercises of the Army of the Islamic Republic of Iran will start on Sunday with the participation of the Army's Ground, Air, Air Defense and Naval forces in an area of one million square kilometers East of the Strait of Hormuz, the Sea of ​​Oman and the North Indian Ocean (up to 10 degrees orbit)," Rear Admiral Sayyari, also the commander of the drills, said on Saturday.
He added that the Army's infantry, armored and mechanized units, Air Defense, air force defense systems, Navy's surface vessels and submarines, Army's Air Force's fighters and drones have been deployed in the general zone of the drills since days ago and have staged different exercises and the units will carry out the main phases of the joint Zolfaqar 1400 wargames on Sunday," he added.
Rear Admiral Sayyari noted during the exercises, the Army's drones, with the capability of electronic warfare and ability to carry a variety of combat and optical equipment cargos will simultaneously perform various planned joint exercises.
"The exercise is meant to send a serious warning message to the enemies and those who intend to harm Iran's interests on land or in water, while for the friendly and Muslim countries and the dear people of our country, it has a message of hope in the resistance of the Army and other Armed Forces and trust in the capacities of countries to establish and strengthen security in the region without the presence of trans-regional forces," Rear Admiral Sayyari said.