Politics
2021-November-22  12:49
Top Diplomat Stresses High Potentials for Expansion of Trade, Energy Ties between Iran, Azerbaijan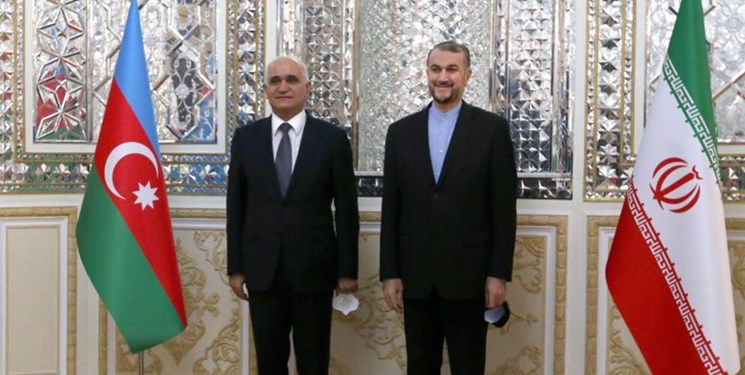 TEHRAN (FNA)- Iranian Foreign Minister Hossein Amir Abdollahian in a meeting with visiting Azeri First Deputy Prime Minister Shahin Mustafayev underlined the need for using high potentials existing for the further development of relations between the two neighbors, specially in trade and energy fields.
During the meeting on Sunday, the two sides exchanged views on the latest developments in the Caucasus region as well as cooperation between Tehran and Baku in various fields of mutual interest.
Amir Abdollahian underscored Iran's unwavering position on supporting the territorial integrity of all regional countries, and said the international borders in the region are unchangeable.
He also hailed the growing trend of mutual trade ties and profound bonds between the two nations, saying that last year's liberation of Azerbaijan's territories in a war with the neighboring Armenia opened a new chapter in the two countries' economic relations.
Iran's top diplomat noted that the two countries must take advantage of their mutual potentialities in various fields of trade, transportation, energy and tourism.
Highlighting economic capabilities of Iran, Amir-Abdollahian declared readiness of Iranian firms to participate in the reconstruction projects in the liberated Azerbaijani territories.
He added that in view of successful COVID-19 vaccination programs carried out by the two countries, they should consider facilitation of exchanges between their nationals and reestablish mutual flights.
Mustafayev, for his part, said he had already held constructive meetings with Iranian ministers of petroleum as well as roads and urban development, adding that the two countries are close to signing important agreements in oil, gas and transportation sectors.
He also commended the constructive role played by the Iranian and Azerbaijani foreign ministers in settling the recent tensions in the Caucasus region, saying that the two countries' joint economic cooperation commission will hold a session in early 2022.
In a phone call with his Azerbaijani counterpart, Jeyhun Bayramov, on October 23, the Iranian foreign minister said Azerbaijan's release of two Iranian truck drivers detained last month constitutes a constructive move to clear misunderstandings, expressing Tehran's keenness to improve and broaden relations with Baku.
Amir Abdollahian also called for more positive steps toward settlement of possible issues between the two countries and the facilitation of the Iranian trucks traveling in the border areas with Azerbaijan.
Azerbaijan and Armenia fought a six-week war last year in which Azeri troops drove Armenian forces out of swathes of territory they had long controlled in and around the Nagorno-Karabakh enclave.
Although the fighting in Nagorno-Karabakh, which is internationally recognized as part of Azerbaijan, ended in a Russian-brokered ceasefire, clashes on the border have persisted at irregular intervals this year, occasionally causing fatalities.