Politics
2021-November-22  15:55
Syrians Give Warm Farewell to Iranian Anti-Terror General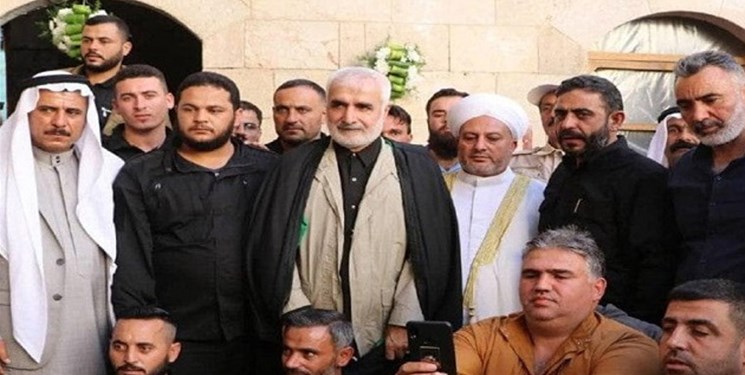 TEHRAN (FNA)- Commander of Iran's military advisers in Syria General Javad Qaffari, a popular figure among the Syrian groups, received a warm farewell from them and the country's officials after ending his mission.
Different Syrian groups from all social strata have held farewell events for General Qaffari, as the Iranian commander was a popular figure and had a prominent role in social welfare activities besides enjoying strong ties with the Damascus government, Masoud Asadollahi, a prominent political expert on regional affairs, said.
The expert said the Iranian general's anti-terror efforts have been praised at a number of events, including one held by Syrian Defense Minister General Ali Abdullah Ayyoub at the Defense Ministry, where senior Syrian Army officers, as well as those of Iran's Islamic Revolution Guards Corps (IRGC) and Lebanese Hezbollah resistance group, were in attendance.
Asadollahi pointed out that foreign media outlets have published falsified analyses seeking to portray the termination of General Qaffari's mission as a dismissal by Syrian President Bashar Assad at the request of the United Arab Emirates (UAE) Foreign Minister Sheikh Abdullah bin Zayed Al Nahyan.
The arrangements for the Emirati diplomat's visit had been made in advance and his trip to Damascus had nothing to do with the Iranian general, who had been replaced a month earlier, he stressed, citing Hezbollah Secretary General Seyed Hassan Nasrallah, who has described the trip as the official announcement of the defeat of a plot hatched by Takfiri groups against Syria.
Asadollahi categorically dismissed media allegations about the chief officer, stating that General Qaffari was the third commander of Iranian forces in Syria, after Major General Hossein Hamedani – who was martyred in an ISIL terrorist attack in Syria's Northern city of Aleppo on October 7, 2015 – and Brigadier General Mohammad Jafar Asadi.
He went on to say that General Qaffari started his anti-terror mission at the outset of the Syrian crisis and played the leading role in the liberation of the Western districts of the Ghouta area of Damascus.
He was then appointed as the commander of the Aleppo brigade and took the helm as the chief commander of Iranian military advisors in Syria in early February 2016, when the Syrian government managed to liberate Nubl and al-Zahraa towns in Aleppo province with the help of Iranian counselors, the political analyst said.
Asadollahi noted that General Qaffari's mission ended last month after holding the post for six years. He said a new adviser has already replaced him.
The expert highlighted that the Iranian general was set to be relieved of his duties in late March 2020 but the move was put off after the assassination of Iran's top anti-terror General Qassem Soleimani and his companions, including Deputy Chief of Iraq's Popular Mobilization Units (PMU) Abu Mahdi al-Muhandis, in an airstrike directly ordered by former US president Donald Trump at Baghdad International Airport on January 3.
Syria has been gripped by foreign-backed militancy since 2011.
Iran has been offering military advisory support to Syria at the request of the Damascus government, enabling its army to speed up its gains on various fronts against terror groups.