Politics
2021-November-23  13:50
Minister: Iran Pursuing Enhanced Cultural Ties with Regional States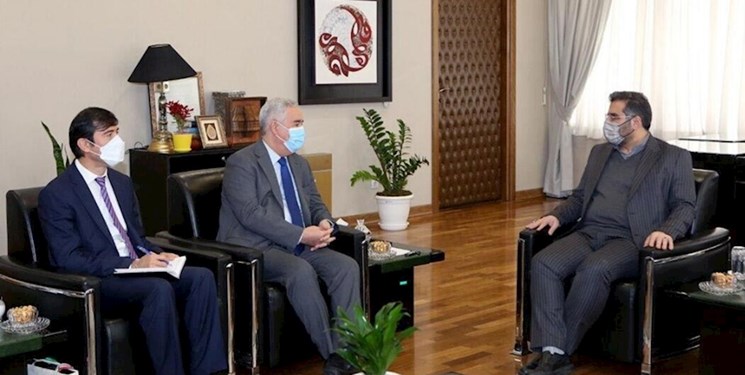 TEHRAN (FNA)- Iranian Culture Minister Mohammad Mehdi Esmayeeli underlined that President Seyed Ebrahim Rayeesi's government is looking for the expansion of mutual cooperation with regional countries.
Esmayeeli made the remarks in a meeting with Tajik Ambassador to Tehran Nezamoddin Zahedi.
"The two Iranian and Tajik nations talk the same language with each other needless translators, or interpreters, which shows the depth of the two nations' cultural commonalities," Esmayeeli said.
"Our people consider the Tajik government as a brother of theirs, and the Tajik nation as a friendly neighbor," the Iranian culture minister added.
Esmayeeli reiterated that all the Persian-speaking countries in Central Asia and the region, including Tajikistan, are particularly in the focus of attention for the current Iranian government, and said, "We are all in a single linguistic complex and this singularity shows we have lots of reasons for joint cultural interactions."
He welcomed holding Tajikistan Culture Week in Tehran and the other Iranian cities.
Esmayeeli, meanwhile, proposed cultural cooperation in such fields as cinema, music, fine arts, dramatic arts, and literature.
The Tajik ambassador, for his part, pointed to the great cultural and artistic commonalities between the two nations, and expressed hope that Iran and Tajikistan's cultural cooperation will from now on expand more than ever before in practice.
In a relevant development in June 2019, Iranian Ambassador to Dushanbe Mohammad Taqi Saberi and Tajikistan's Culture Minister Shamsiddin Orumbekov, in a meeting in the Central Asian country's capital city, exchanged views on ways to broaden cooperation between the two countries, and vowed to boost bilateral cultural ties.
In the meeting in Dushanbe, Saberi and Orumbekov conferred on expansion of cultural relations and cooperation between the two countries.
During the meeting, Saberi expressed satisfaction with his presence in Tajikistan and referred to the new and increasing development of bilateral relations and also expressed the hope to witness further expansion of cooperation and relations during his tenure in the country in terms of culture, religion and language.
Tajik Minister of Culture Orumbekov, for his part in the meeting, welcomed the appointment of Saberi as the Ambassador of the Islamic Republic of Iran, noting that "The two nations enjoy common culture, language and religion, and we have a lot of cultural commonalities that can be effective to expand ties between the two countries in various fields."