Politics
2021-November-23  14:40
AEOI Head: Iran Determined to Develop N. Program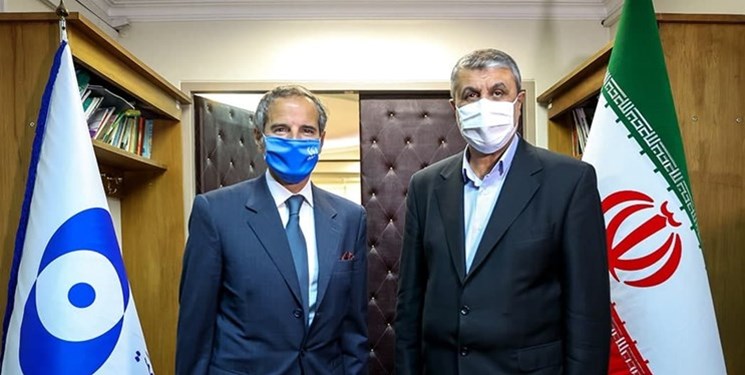 TEHRAN (FNA)- Head of the Atomic Energy Organization of Iran (AEOI) Mohammad Eslami said that his country is determined to use peaceful nuclear program to improve the Iranian people's lives, adding that the UN nuclear watchdog is due to help Tehran to this end.
"The important point between us and the Agency is that issues between the two sides are technical and (the assurance) that the Agency does not pay attention to the political issues and the enemies' plots to influence the path of progress of Iran's nuclear program and is not influenced by them," Eslami told reporters in a joint press conference with Director-General of the International Atomic Energy Agency (IAEA) Rafael Grossi in Tehran on Tuesday.
"Mr. Grossi said several times today that they have witnessed no deviation in Iran's nuclear programs and Iran continues its nuclear activities based on treaties and regulations," he added.
Asked about the allegations raised by enemies against Iran's nuclear program in the IAEA, Eslami said that they have been answered by Iran in the nuclear deal and that the case has been closed.
"We agreed today to end these issues and with the procedure that we will adopt, which is still being negotiated, talks on them will not continue," he added.
"Iran is resolved in (developing) its nuclear program," Eslami said, adding that the country wants to use different aspects of nuclear technology for a better living of the Iranian people and the IAEA will help Iran in this regard.
Grossi arrived in Tehran for meetings with top Iranian officials, days before the resumption of high-profile talks in Vienna on the removal of the United States' sanctions against the Islamic Republic.
Before heading for Tehran, Grossi hoped in a tweet that his visit would help "establish a fruitful and cooperative channel of direct dialogue" between Iran and the UN nuclear watchdog.
"I'm travelling to Tehran today for meetings with Iranian officials to address outstanding questions in Iran. I hope to establish a fruitful and cooperative channel of direct dialogue so the IAEA can resume essential verification activities in the country," he added.