Politics
2021-November-23  15:01
President: Tehran Attaches Special Importance to Regional Cooperation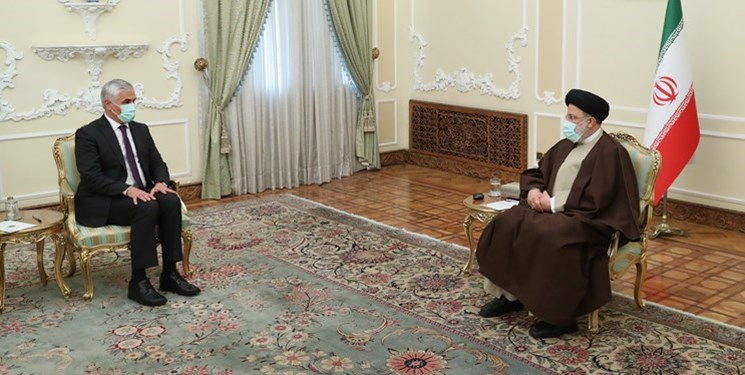 TEHRAN (FNA)- Iranian President Seyed Ebrahim Rayeesi in a meeting with Secretary-General of the Economic Cooperation Organization (ECO) Khusrav Noziri stressed Tehran's special attention to the development of cooperation among the regional states.
"Any obstacles and problems on the way of the development of cooperation should be removed so that the economic exchanges and relations of the ECO member states can be carried out at a higher and superior level," Rayeesi said in the meeting in Tehran on Tuesday.
"Each member of the ECO has a lot of economic potentials in various fields, the activation of which can lead to economic prosperity in the region," he added.
Rayeesi referred to the capacities of the ECO member states in the fields of energy, trade, transportation, digital economy, maritime economy and tourism, and said, "Comprehensive plans and actions of the ECO Secretariat to activate these capacities can bring economic prosperity to the region and development for the ECO member states."
He emphasized that the Islamic Republic of Iran supports the activation and development of ECO activities, and said, "Tehran attaches special importance to regional cooperation in the framework of the Economic Cooperation Organization and supports such activities."
In relevant remarks last month, Iranian Foreign Minister Hossein Amir Abdollahian announced his country's continued support for the ECO and willingness to further expand ties and cooperation with its members.
Amir Abdollahian made the remarks in a meeting with Noziri in Tehran.
Amir Abdollahian hailed the implementation of a number of long-term and infrastructure projects by the ECO in various fields, including transportation, trade, monetary and banking sections, and expressed hope that the remaining plans would be completed during the tenure of Noziri, who took office in August.
He further said that Iran would continue to support the ECO and its chief and expressed hope that ECO member states would make important decisions that would strengthen regional cooperation during the upcoming summit of the organization.
Noziri, for his part, commended Iran's support for his appointment as the new ECO secretary general and outlined plans for the 15th ECO Summit, which is scheduled to be held on November 28, 2021 in Turkmenistan.
The ECO chief said Iran plays a leading role in the Asian political and economic intergovernmental organization and called for the continuation of Tehran's support.