Politics
2021-November-23  16:47
Iran Calls for Netherlands' Independence from Hegemonic Powers' Influence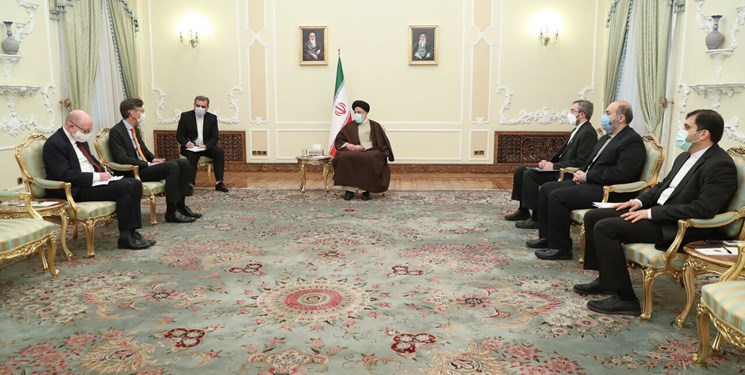 TEHRAN (FNA)- Iranian President Seyed Ebrahim Rayeesi underlined the need for the expansion of cooperation between Tehran and Amsterdam in different fields, and called on the Netherlands not to be affected by the hegemonic powers' influence.
President Rayeesi made the remarks in a meeting with new Ambassador of the Netherlands to Iran Frank Mollen in Tehran on Tuesday.
In the meeting, Mollen submitted his credentials to the Iranian president.
President Rayeesi stressed age-old relations between Iran and the Netherlands, and said countries like the Netherlands with deep-rooted history should remain independent and not be affected by the hegemonic moves.
Referring to the existence of hundreds of mosques in the Netherlands, the president said respect for the rights of Muslims can lead to developing the culture in Europe.
Rayeesi added that the hegemonic system has used the issue of human rights as a tool for putting pressure on the developing states.
And this is while the Islamic Republic, due to following its Revolution and religious guidelines, has a duty to respect people's rights as it has been hosting four million Afghans in Iran for years, he stressed.
Mollen, for his part, said the two countries have a four-hundred-year background of relations and Iran has always been an important trade destination for the Netherlands.
Describing Iran as a powerful country in the region, the envoy said there are good opportunities for fostering bilateral relations in trade and investment.
Speaking about the situation in Afghanistan, the ambassador appreciated Iran for hosting a large number of Afghan migrants.
President Rayeesi also on Tuesday received a copy of credential letters of a number of other newly-appointed ambassadors to the Islamic Republic of Iran.
The ambassadors of Spain, the Vatican, and New Zealand to Iran submitted their credentials to President Rayeesi.
During the meeting of Spain's new ambassador to Tehran, the president emphasized Iran's will is to develop economic, political, cultural, and sporting relations with Spain, adding that there are good capacities in the two states to promote relations.
Also during his meeting with the Vatican's new ambassador, President Rayeesi said that if those who oppress the world today pay attention to the teachings of Christ, they will no longer commit oppression and the Vatican can play an active role in this regard.
While receiving a copy of the credential letter of the New Zealand ambassador, President Rayeesi stressed development of relations between Tehran and Wellington.