Politics
2021-November-26  21:29
Spokesman: IAEA Warned Several Times by Iran for Untechnical Behavior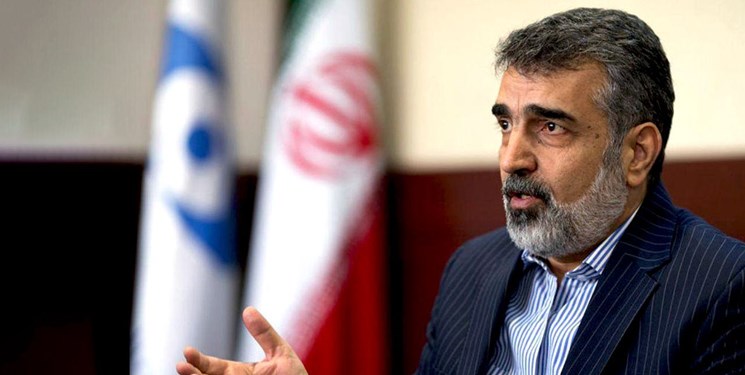 TEHRAN (FNA)- Spokesman of the Atomic Energy Organization of Iran (AEOI) Behrouz Kamalvandi said the International Atomic Energy Agency (IAEA) has been warned to avoid the inappropriate treatment it has shown in dealing with Tehran on several occasion.
"The world powers have politicized part of peaceful nuclear program, while Iran is acquiring peaceful nuclear industry and the country has complied with all its commitments under the IAEA Safeguards Agreement," Kamalvandi said.
"Iran has several times warned the UN nuclear watchdog over such inappropriate behaviors," he added.
He pointed out that during negotiations with IAEA Director General Rafael Grossi all these issues have been mentioned. 
Heading a delegation, Grossi arrived in Iran on Monday and met with senior Iranian officials.
Grossi arrived in Tehran for meetings with top Iranian officials, days before the resumption of high-profile talks in Vienna on the removal of the United States' sanctions against the Islamic Republic.
He said on Tuesday that he has held intensive talks with Iranian officials about issues of mutual interest, and hoped for a positive result from the negotiations.
"A few months ago during my visit to Iran, we agreed with Mr. Eslami that we would continue our joint work on transparency a few months later, as well as continuation and deepening of talks with the new government in Iran and I am proud to meet the Iranian foreign minister a few hours later," Grossi said in a joint press conference with Eslami in Tehran.
"Today's talks were intensive and we are after continued negotiations to find common grounds," he added.
"There are issues that we study with Mr. Eslami but our goal has been to define the perspective of the nuclear program in a way that we can help production of clean energies with respect to the climate changes and provide it to all. This was an issue which was discussed in detail in Glasgow meeting a few days ago," Grossi said.
"We are making efforts to reach positive results from today meeting," he added.
During the press conference, Eslami said that his country is determined to use peaceful nuclear program to improve the Iranian people's lives, adding that the UN nuclear watchdog is due to help Tehran to this end.
"The important point between us and the Agency is that issues between the two sides are technical and (the assurance) that the Agency does not pay attention to the political issues and the enemies' plots to influence the path of progress of Iran's nuclear program and is not influenced by them," Eslami told reporters in a joint press conference with Grossi in Tehran on Tuesday.
"Mr. Grossi said several times today that they have witnessed no deviation in Iran's nuclear programs and Iran continues its nuclear activities based on treaties and regulations," he added.
Asked about the allegations raised by enemies against Iran's nuclear program in the IAEA, Eslami said that they have been answered by Iran in the nuclear deal and that the case has been closed.
"We agreed today to end these issues and with the procedure that we will adopt, which is still being negotiated, talks on them will not continue," he added.
"Iran is resolved in (developing) its nuclear program," Eslami said, adding that the country wants to use different aspects of nuclear technology for a better living of the Iranian people and the IAEA will help Iran in this regard.
Also, Amir Abdollahian in a meeting with Director-General of the International Atomic Energy Agency Rafael Grossi called on the UN nuclear watchdog not to surrender to attempts by certain countries to influence and pressure the IAEA.
During the meeting on Tuesday, Amir Abdollahian underlined Iran's serious will to engage constructively with the IAEA under the Safeguards Agreement, and expressed the hope that mutual trust and cooperation would be further strengthened during Grossi's visit.
The Iranian foreign minister also referred to the importance of IAEA's technical, professional, and impartial work, and underlined the need for the Agency to ignore foreign political pressures.
Grossi, for his part, emphasized the technical, professional, and impartial approach of the Agency, and described his visit as a sign of the will for talks and mutual understandings, resolving issues, and enhancing cooperation with Iran.
He announced the Agency's readiness to resolve the remaining issues in the coming months in close cooperation with the Islamic Republic of Iran.