Politics
2021-December-8  13:56
Iran Blasts US Sanctions against ICC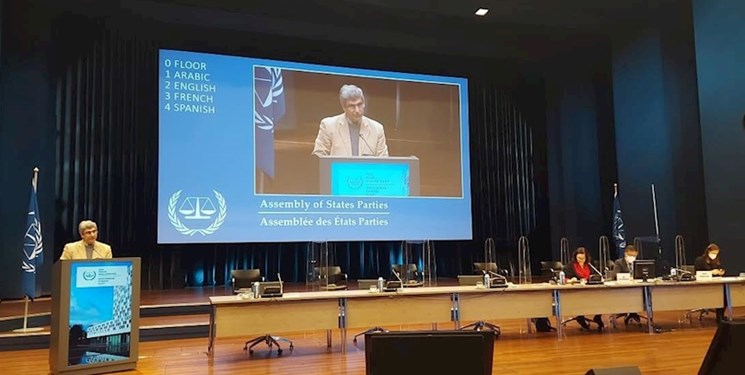 TEHRAN (FNA)- Iran blasted the US illegal and unilateral sanctions against the International Criminal Court and ICC officials, and said that Washington's act violated the international law.
 Iran's representative to the twentieth session of the Assembly of States Parties (ASP) to the Rome Statute of the ICC Seyed Mehdi Hosseini Esfidvajani made the remarks at the twentieth session of the ASP at the World Forum Convention Center in The Hague, The Netherlands on December 6. Due to the current COVID-19 restrictions, meetings are held partly via video conference.
On December 6-11, States Parties to the Rome Statute, the Court's founding treaty, observer States, invited States, international and regional organizations, and representatives from civil society will discuss key challenges facing the Statute.
States Parties will also make important decisions and adopt resolutions on key issues pertaining to the functioning of the Court and the Trust Fund for Victims, including in relation to their respective budgets, and on cooperation. They will also elect two Deputy Prosecutors, members of the Board of Directors of the Trust Fund for Victims, and members of the Advisory Committee on nominations of judges.
Hosseini Esfidvajani stressed that the US government intends to undermine the independence of international actors with these measures.
"The US government's bullying against the International Criminal Court and its officials was a tactic used by the United States to buy enough time to withdraw its troops from Afghanistan to prevent the perpetrators of war crimes from being brought to justice," he added.
He went on to say, "The destructive and harmful effects of international law violations resulting from unilateral sanctions on international crimes are within the jurisdiction of the ICC, and the court must be vigilant against such coercive actions and take appropriate precautions."
The Iranian diplomat continued that the court should comprehensively and fully consider all the results of the investigation into the crimes committed in Afghanistan by all parties involved, including US forces.
He emphasized the need to launch an investigation into the situation in Palestine and said that the performance of the ICC Office of the Attorney General in relation to the situation in Afghanistan and Palestine would be a good benchmark for assessing the independence and impartiality of the court in carrying out its mission.
The ICC investigation into war crimes and crimes against humanity in Afghanistan was given the go-ahead in March 2020.
Three years before that – in 2017 – former ICC prosecutor Fatou Bensouda had asked judges to allow a full-blown probe not only into the Taliban and Afghan government personnel but also the international forces as well as US troops and members of the CIA.