World
2021-December-8  21:10
India Defence Boss, Wife, 11 Others Killed in Helicopter Crash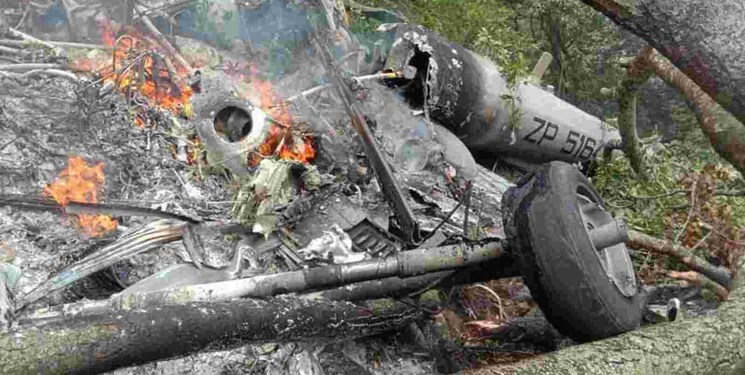 TEHRAN (FNA)- India's Defence Chief General Bipin Rawat, his wife, and 11 other people were killed after a military helicopter they were travelling in crashed in the Southern state of Tamil Nadu, the Indian Air Force (IAF) said.
The IAF said in a Twitter post the "tragic accident" took place near the town of Coonoor at noon on Wednesday. The helicopter was on its way from an Air Force base to the Defence Services Staff College when it crashed, Al-Jazeera reported.
Authorities said they have opened an investigation.
Commenting on the incident, India's Defense Minister Rajnath Singh said he was "deeply anguished by the sudden demise of Chief of Defence Staff Gen Bipin Rawat, his wife and 11 other Armed Forces personnel in an extremely unfortunate helicopter accident today in Tamil Nadu."
"His untimely death is an irreparable loss to our Armed Forces and the country," Singh said adding that "General Rawat had served the country with exceptional courage and diligence. As the first Chief of Defence Staff he had prepared plans for jointness of our Armed Forces," said Singh.
"My heart goes out to the families of those who lost their loved ones in this accident. Praying for the speedy recovery of Gp Capt Varun Singh, who  is currently under treatment at the Military Hospital, Wellington," Singh added
Earlier, news channels showed a flight manifest that displayed the names of nine passengers, including Rawat's wife and other senior defence officials.
Videos broadcast on Indian news channels showed the helicopter in flames in a densely forested area near the college as locals tried to put out the fire.
Rawat was India's first chief of defence staff, a position the Indian government established in 2019 and which he assumed last year after retiring as army chief. He was seen as being close to Prime Minister Narendra Modi and was an adviser to the defence ministry.
Rawat hailed from a military family, with several generations serving in the Indian armed forces.
The general, who had four decades of service behind him, has commanded forces in Indian-administered Kashmir and along the Line of Actual Control bordering China.
He has been credited with reducing armed conflicts on India's Northeastern frontier and supervised a cross-border counterinsurgency operation into neighbouring Myanmar.