Society_Culture
2022-January-2  21:13
Iran's New Coronavirus Vaccine in 3rd Phase of Clinical Trial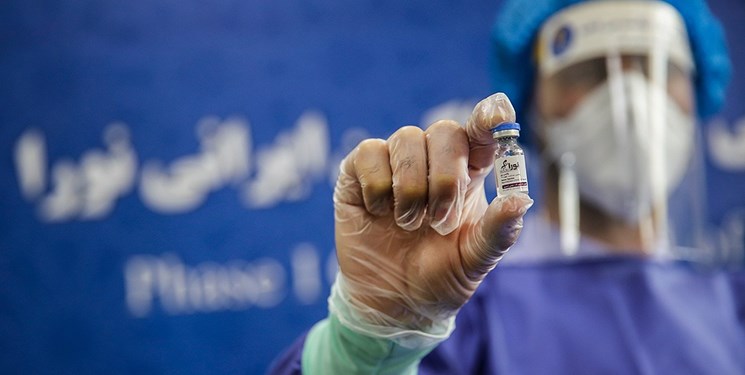 TEHRAN (FNA)- Iran on Sunday started the third phase of clinical trial of the country's new vaccine, Noora, produced by Baqiyatallah University of Medical Sciences, affiliated to the Islamic Revolution Guards Corps (IRGC).
The third phase of Noora vaccine's clinical trial started in the presence of IRGC Commander Major General Hossein Salami and Iran's Health Minister Bahram Einollahi.
Addressing the event, Head of Baqiyatallah University of Medical Sciences Hassan Abolqassemi said five million doses of Noora vaccine will be distributed.
He added that Noora with about 90% efficiency can be used for the third dose of vaccination.
Abolqassemi noted that Noora will be injected to 10,000 volunteers in the third phase.
In relevant remarks in September, Deputy Head of Baqiyatallah University of Medical Sciences in Iran Ebrahim Motevallian said that the new home-made Noora coronavirus vaccine will be mass-produced in the near future.
"We have prepared the production infrastructure in several points by the private sector to produce between three to five million doses as soon as we receive the final approval for (mass-Production) and monthly distribution," Motevallian said.
"The difference between Noora and other vaccines is that it is not a virus itself and it is made of protein, which is a method that has received much attention in the world," he added, noting that the vaccine can also be used as a booster to other coronavirus vaccines.
Noora vaccine, produced by Baqiyatallah University of Medical Sciences, was put on display during a ceremony in Tehran on June 27 in the presence of General Salami, Iran's former health minister Saeed Namaki as well as other Iranian health officials.
The recombinant vaccine entered the first stage of human trial after 16 months of research work by Iranian scientists.
Its first dose was injected into the chief medial officer of Baqiyatallah Hospital Dr. Hossein Samadinia.
"It is noteworthy that a few universities in the world have been able to develop a vaccine against the virus, and it is a great honor for the Baqiyatallah University of Medical Sciences to be able to achieve this success," Samadinia said on the sidelines of the unveiling ceremony at the time.