Politics
2022-January-5  17:52
Iran, France Vow to Broaden Judicial Cooperation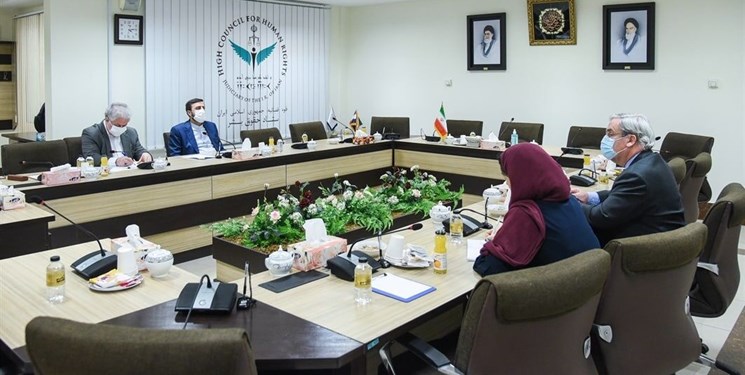 TEHRAN (FNA)- Iran's Deputy Judiciary Chief Kazzem Qaribabadi and French Ambassador to Tehran Philippe Thiébaud in a meeting stressed the need to expand mutual cooperation in legal and judicial fields.
During the meeting in Tehran on Tuesday, Qaribabadi and Thiébaud explored avenues for bolstering and reinvigorating bilateral relations in the judicial fields.
Referring to the experience of expert dialogues on legal and judicial issues with some European countries, Qaribabadi said that Iran is ready to exchange views with France in this field.
"The expert judicial dialogues could also help the countries to come to a better mutual understanding," he added.
Qaribabadi, also the secretary of Iran's Human Rights Headquarters, criticized the approaches and double standards of some countries towards the issue of human rights.
Philippe Thiébaud, for his part, explained his country's views on human rights and welcomed Iran's proposal on exchanging legal and judicial dialogues. 
In relevant remarks last year, Iranian President Seyed Ebrahim Ebrahim Rayeesi said that his country was ready to open the doors of its jails to all those who claim to be advocates of human rights provided that Tehran will be given a similar access to prisons of other countries.
"We are ready to open the doors of our prisons to any country in the world that wants to see inside of them, provided that we will be allowed to visit any prison in any country that we want; if this happens, it will be clarified where human rights are respected and where these rights are being ignored," Rayeesi said.
"Today, the freedom-seeking people in the world do not believe the westerners' respect for human rights, and they know that the westerners' moves are political, and they have used human rights as a pretext to put pressure on independent and developing countries," he added.
Rayeesi also referred to the large number of Iran's furloughed prisoners to lower the rist of COVID-19 outbreak in jails, and said no country in the world can compete with Iran in this regard.