Politics
2022-January-9  17:21
Spokesman: Afghanistan Embassy Operating Based on 1961 Convention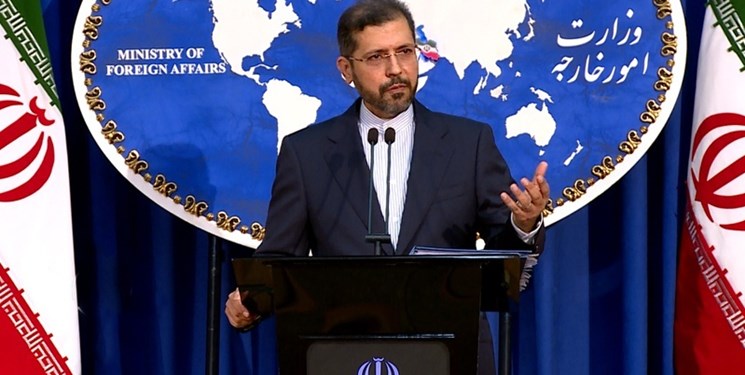 TEHRAN (FNA)- Iranian Foreign Ministry Spokesman Saeed Khatibzadeh said on Sunday that the diplomatic activities of Afghanistan embassy in Iran are based on the 1961 Vienna Convention with no exception or change.
"The diplomatic activities of the Afghan Embassy in Tehran, like all foreign embassies, are in accordance to the principles and rules stipulated by the 1961 Vienna Convention on Diplomatic Relations, and no change has been made beyond the convention," Khatibzadeh said.
His comments came after certain media reports claiming that the situation of Afghan embassy in Tehran has changed as the Taliban acting Foreign Minister Amir Khan Mottaqi visits Iran.
The media claimed that the Iranian government was handing over the Afghan embassy in Tehran to the Taliban and that the former Afghan ambassador to Tehran had left Iran for a European country.
Heading a delegation of the Taliban government authorities, acting foreign minister Amir Khan Muttaqi arrived in the Iranian capital of Tehran on Saturday night. 
In a statement issued on Sunday, the Iranian Foreign Ministry said that the country has always stressed the need to maintain economic and trade relations with Afghanistan.
In relevant remarks last month, Iranian President Seyed Ebrahim Rayeesi underlined the need for the formation of an all-inclusive government in Afghanistan with the partnership of all groups.
"All the efforts of the Islamic Republic of Iran are towards establishing a government in Afghanistan that embraces all ethnic groups," President Rayeesi said.
He reiterated that Afghanistan's security is Iran's security and insecurity in that country is equal to insecurity in Iran.
"All our efforts are for a government in Afghanistan that people feel belongs to all Afghan groups and ethnics and assures peace in the country," the Iranian president added.
Around 300,000 Afghan migrants have entered Iran following the collapse of the Kabul government and the Taliban's takeover.
Afghanistan is facing what UN agencies have described as "one of the world's worst humanitarian disasters" since the collapse of Kabul in mid-August.
The US military withdrew its forces from Afghanistan 20 years after they invaded the country to topple the Taliban, in a war that killed, according to one estimate, between 897,000 and 929,000 people.
Since the Taliban regained power in Afghanistan, the US and its allies have imposed sanctions on the Central Asian country and deprived Afghans of any aid and assistance on the pretext of pressuring the Taliban.