World
2022-January-11  12:56
Moscow Says US Never Presents Proof of Its Anti-Russian Accusations, Doubts Washington Readiness to Implement Security Guarantees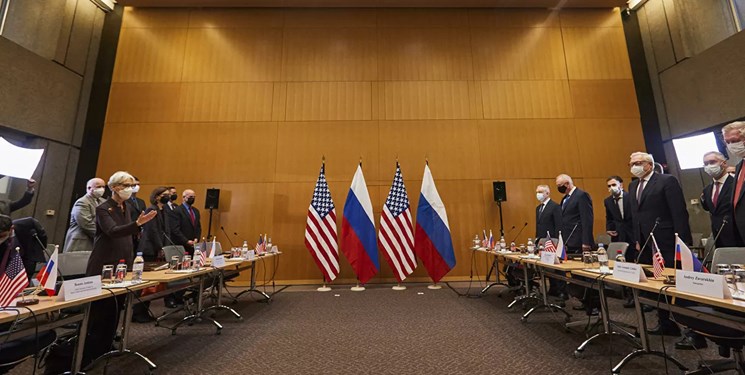 TEHRAN (FNA)- Moscow has asked Washington "a thousand times" to provide any evidence supporting its anti-Russian accusations, but all its requests have either been declined or left unanswered, Deputy Foreign Minister Sergey Ryabkov told reporters on Monday after Russian-US consultations on security guarantees.
When asked what evidence could Russia provide to prove that it has no plans of "attacking" NATO, the Russian deputy foreign minister replied, "On many occasions, we have requested proof from the US side. In response, they either remained silent or said something like 'you are well aware of what you are doing, and there is nothing left to prove'", TASS reported.
"Probably, we should take this path, too, by saying 'if you don't want to believe our words, you don't have to," he added.
False information of alleged preparations of Russian military invasion of Ukraine, originating from certain agencies in the West, is aimed at sowing discord and uncertainty in the Ukrainian society, Ryabkov stated.
"Certain maps are now being published - sometimes by The Wall Street Journal, sometimes by The New York Times. They are done professionally, but this disinformation - or misinformation, at best - is coming from special Western bodies and is aimed at sowing discord and uncertainty in the Ukrainian society," he said.
He reiterated that Russia had "no plans, intentions or reasons" to attack Ukraine.
The West and Kiev have recently been spreading allegations about Russia's potential invasion of Ukraine. Kremlin Spokesman Dmitry Peskov castigated these claims as "empty and unfounded", serving as a ploy to escalate tensions, pointing out that Russia did not pose any threat whatsoever to anyone. However, Peskov did not rule out the possibility of provocations aimed at justifying such allegations and warned that attempts to use military force to resolve the crisis in Southeastern Ukraine would have serious consequences. According to him, Moscow is making every possible effort to help Kiev resolve the conflict in Donbass, remaining committed to the Normandy Four format and the Minsk Agreements.
The imaginary threat of Russian military invasion of Ukraine must not be viewed as a bargaining chip in negotiations with the United States, Ryabkov underlined.
"This is not the case because we have no intention to invade Ukraine. And thus there is nothing to trade and secondly, we do not expect the West to show flexibility on some of the issues that we presented," he underscored.
The senior Russian diplomat expressed hope for changes in Ukraine.
"I'm hopeful that situation in Ukraine will change in two senses primarily - number one that government in Kiev engages in a meaningful manner with people in Donetsk and Lugansk as provided for in the Minsk package," he said, adding, "I equally expect authorities in Kiev to sustain and observe the ceasefire agreement which arrived a few days before the New Year and which didn't stand for long because of new provocations on the part of Ukrainian security forces."
Russia explained to the US side that it has no plans of any "aggression" against Ukraine, and, so, there are no grounds to be afraid of an escalatory scenario, Ryabkov noted.
"We explained to our colleagues that we have no plans or intentions to stage an "aggression" against Ukraine and that there cannot be any such plans, and that all measures to boost our troops' combat readiness are conducted on our own national territory <…>. There are no grounds to be afraid of any escalatory scenario whatsoever," he continued.
Russia expects that NATO will soon realize the need to cooperate with Moscow on the security proposals, Ryabkov said.
"I hope that tomorrow, after the US delegation will hold a briefing for the NATO allies in Brussels, and the day after tomorrow, when our delegation will address the same topics, there will be more understanding that [the talks] should not be deadlocked. There is a need for a breakthrough, for a real step towards Russia on part of NATO <…>," the senior diplomat noted.
Ryabkov emphasized that if Russia and the US did not reach understanding, Moscow would further consider the situation "taking into account all the factors".
"Without <…> trying to get ahead of the events, I can admit that I really would not like NATO countries, led by the US, to make such a mistake and undermine their own security as well as the security of the entire European continent," the Russian senior diplomat added.
Moscow calls on Washington to show the utmost responsibility, since the risks of a possible confrontation should not be underestimated, Ryabkov stated.
"We urge the US to take the utmost responsibility [during the current stage of the negotiations]. The risks of a possible escalation of confrontation should not be underrated," the Russian senior diplomat noted.
"Business, professional negotiations definitely create a more optimistic atmosphere, but nevertheless, the main issues remain unresolved. We do not see that the US understands that it is crucial to make decisions that we are satisfied with," the deputy FM announced.
Russia and the United States have been failing to reach any progress on issues of stopping NATO's further Eastwards expansion, Ryabkov said.
"As for NATO's non-expansion, I would say that there is categorically no progress on this matter," he added.
"It is one of the key problems we are facing," Ryabkov continued, noting, "I would say that the rest largely depends on how the situation on this matter develops."
Russia will consider any further steps on security guarantees after talks with NATO and the OSCE due on January 12 and 13, he stated.
"I would take the risk of saying that after one and a half days of discussions we arrived at a joint conclusion that we will consider any further steps and the prospects of this work and will take corresponding decisions after the events that are due in the coming days, namely the events in Brussels on January 12, where we will meet in the collective format with NATO, and a meeting of the OSCE Permanent Council on the following day, January 13," he said.
"It will become clearer after that if there are any grounds to recommend the leadership take this or that decision in favor of continuing this process. If yes, which format to choose. Or we have something else and can state with regret in this case that the NATO group has opted for turning down our initiative. In this case, the situation will be viewed differently," Ryabkov added.
Moscow is uncertain of the United States' possible pledge to follow bilateral security guarantees with Russia in case they are approved, Ryabkov stated.
"We see no certainty in their implementation," Ryabkov said, adding, "Our president previously raised an issue that considering a negative experience, which we had enormously accumulated over the past, a scheme regarding obligations on behalf of the United States was definitely not ideal, but paraphrasing and personally misinterpreting it, I should say that the signal was - it is better than nothing."
The Russian diplomat noted that a political will is required on behalf of Western partners in order to reach the aim of security guarantees.
At talks with the US in Geneva, Russia tried to explain why playing with fire on the part of Washington was no longer acceptable, Ryabkov noted.
"We came to Geneva to avoid entering into an impasse. We spent a lot of effort trying to explain to our American counterparts why playing with fire is not in their interests, why the potential disregard for our absolutely justified presentation of the problem that things cannot any longer go the way they were in the past decades, cannot continue in relations with NATO," Ryabkov continued, adding, "We need drastic changes in the narrative or our relations, its matrix, its framework."
He stressed that Russia had repeatedly brought these considerations to the notice of the US side at all levels - at the level of the two countries' leaders, as well as at the diplomatic and military level. On Monday, the Russian military delegation in Geneva, led by Deputy Defense Minister Alexander Fomin, discussed in depth "respective elements of the position".
Russia's dialogue with the United States and NATO on security guarantees should not be either postponed or dragged out for months and years, he said.
"There are various levels of predictability in such formats and we need to evaluate them to see if there is a perspective for a next step, which can be taken as soon as possible," Ryabkov said.
"Anyway, this process cannot be dragged out transforming into a process consuming months and years," the Russian diplomat added.
Russia has explained in detail to the US why obtaining legal guarantees of NATO's non-expansion is necessary for Moscow, Russian deputy FM stated.
"We, in turn, have presented to the US in detail the logic and substantive part of our proposals, explained why obtaining legal guarantees of NATO's non-expansion was an absolute imperative, why it was necessary for us to receive legal guarantees of not deploying weapons <…> near Russian borders. And why we are asking NATO, by and large, abandon the development of the territories of the states that joined the alliance after 1997, which is the period after signing Russia-NATO Founding Act," the senior diplomat noted.
The Russian side does not see the situation at talks with the US on security guarantees as hopeless, he said.
"I don't consider the situation hopeless," he continued, adding, "I think that the usefulness of the talks in Geneva is mainly in the fact that we were able for the first time to discuss the issues that were present previously sort of invisibly, they did exist, but kind of behind the scenes. Everybody understood that they existed, but pretended that it would be better not to deal with them. Now, a spade was called a spade, which in itself has a therapeutic effect on our relations with the West."
"Let us see how this all will be projected onto work in bilateral formats after the bilateral Russian-US format," he stated.
Ryabkov sees nothing surprising that the issue of NATO's further expansion, "getting the legally binding guarantees to this respect, and the formal revocation of the decision by the 2008 Bucharest Summit, invites very serious objections, to put it mildly, from the US."
"Regretfully, there are also other aspects of the same kind, where we have opposite views," he announced, noting, "Something that is absolutely important for us is categorically unacceptable for Americans. This is bad, since it shows that the American side underestimates the seriousness of what is going on. It's also bad as some other aspects of the vast dossier in the sphere of arms control, the strengthening of strategic stability and security in general, depend on the absence of progress on that track."
The US State Department has also announced the US and Russia have a better understanding of each other's concerns following a meeting between the two sides in the Swiss city of Geneva, but again threatened Moscow with "financial sanctions" and other "costs" if it launches any military action in neighboring Ukraine.
US Deputy Secretary of State Wendy Sherman on Monday spoke with reporters after the conclusion of eight hours of talks with Russian officials in Geneva.
"If Russia stays at the table and takes concrete steps to deescalate tensions, we believe we can achieve progress," said Sherman, the number two diplomat in the State Department.
She reiterated potential actions that Washington and its allies are prepared to take if Russia launches an invasion, despite the fact that Moscow has rejected Washington's allegations of preparing to invade the neighboring country. 
"Those costs will include financial sanctions, and it's been reported those sanctions will include key financial institutions, export controls that target industries; enhancements of NATO force posture on ally territory; and increased security assistance to Ukraine," Sherman added.