Politics
2022-January-13  15:51
Commander: Iran, Pakistan Play Key Role in Regional Security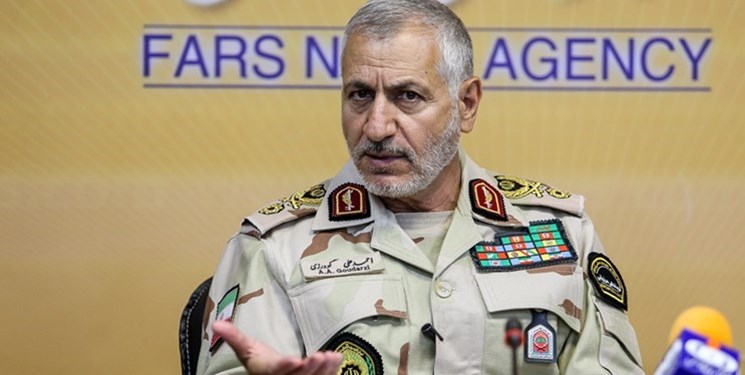 TEHRAN (FNA)- Iranian Border Guards Commander Brigadier General Ahmad Ali Goudarzi said that Tehran and Islamabad are two important countries which play a pivotal role in the establishment of security in the region.
General Goudarzi who is on an official visit to Pakistan, voiced satisfaction at the level of security and peace on the land and sea borders with the neighboring country, saying that both states are committed to deal with enemies of peace with iron feasts.
On the second day of his official visit to Pakistan on Thursday, he said the two friendly, neighboring and Muslim countries of Iran and Pakistan play a valuable role in ensuring regional security through prompt action against criminal acts on land and sea borders.
He added that the border guards of the Islamic Republic of Iran have good relations with their colleagues in the Maritime Security Agency, specially in the area of navigation.
General Goudarzi said that during this trip, it was emphasized that the two countries would strengthen the mechanism for interaction.
He said two friendly neighbors and brothers have strong historical, religious, linguistic, and geographical commonalities, and this factor has made the two countries aware of any insecurity on land and sea borders and will not allow destructive forces to accomplish their evil plans.
Brigadier General Goudarzi said that fencing of the common borders by the Pakistani side is also commendable, adding that his colleagues in Pakistan have announced that with the completion of the project, electronic surveillance facilities and border strip intelligence will be implemented.
He stated the border guards of the Islamic Republic of Iran always monitor the common border with its Eastern neighbor by using modern technology and strongly prevents any illegal traffic, including terrorist movements in the area.
General Goudarzi stressed that security on the borders of Iran and Pakistan is very reassuring and stable compared to the past, and Iran is confident that fencing or other security measures at the border would help in economic growth and prosperity for the two friendly and neighboring countries.
The Iranian border commander added the Islamic Republic of Iran and Pakistan are two influential countries in the region and the Islamic world and have a superior position to help maintain peace and regional stability and joint confrontation against the enemies of peace.
Referring to the capacities of Iran and Pakistan for trade development, he said that with sustainable security and continued border cooperation between the two countries under the leadership of the General Staff of the Armed Forces of the Islamic Republic of Iran and close cooperation with the Pakistani army, outlaws and terrorist elements are not allowed to carry out their activities.
The Iranian Border Guard commander arrived in Pakistani port city of Karachi on Wednesday morning to strengthen bilateral cooperation and participate in the International Barracuda-XI Exercise.