Politics
2022-January-15  16:00
VP: Iran Pays Respect to Nicaragua's Resistance against Excessive Demands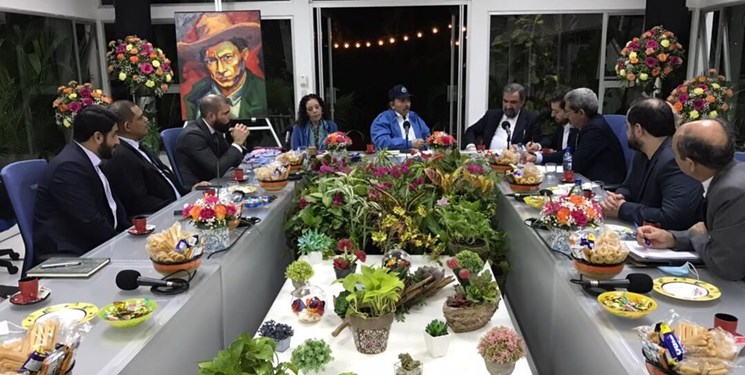 TEHRAN (FNA)- Iranian Vice-President for Economic Affairs Mohsen Rezayee said that his country which is resisting against the US pressures and sanctions admires Nicaragua's resistance against excessive demands.
All, with consolidation, should stand against the US sanctions and plots, Rezayee said in a meeting with Nicaraguan President Daniel Ortega in Managua.
He said that the Iranian nation and government pay special respect to Nicaragua's resistance against excessive demands.
Rezayee stressed that the resistant countries should make further efforts to expand their relations and friendship because the bullying powers, particularly the US, are after preventing nations' development and cooperation.
Further, he noted that the Islamic Republic of Iran has stood by Nicaragua and is ready to strengthen ties with it.
For his part, Ortega thanked Rezayee for attending his swearing-in ceremony, and lauded the strong morale of the Islamic Republic against the enemies' pressures.
As President Ortega said, Nicaragua-Iran relations are deep and cordial.
He went on to say that his country pays great respect to Iran's anti-terror commander Lieutenant General Qassem Soleimani.
Also, the Nicaraguan president appreciated Iran's power during the talks with the world powers in Vienna.
Nicaragua defends Iran's right to use peaceful nuclear energy, he stressed.
In another development, Rezayee also held talks with Nicaraguan minister of health on exchange of the related experiences between the two countries.
He also held a meeting with President of the National Assembly of Nicaragua Gustavo Porras Cortés, and stressed that the era of bullying, war, and sanction is over.
At the meeting, Rezayee underlined the need to develop Tehran-Managua ties in mining, energy, and oil.
For his part, Cortés said the Nicaraguan Assembly will make efforts to enhance bilateral relations.