Politics
2022-January-16  15:05
Iran Urges Removal of Sanctions against Syria, Repatriation of Refugees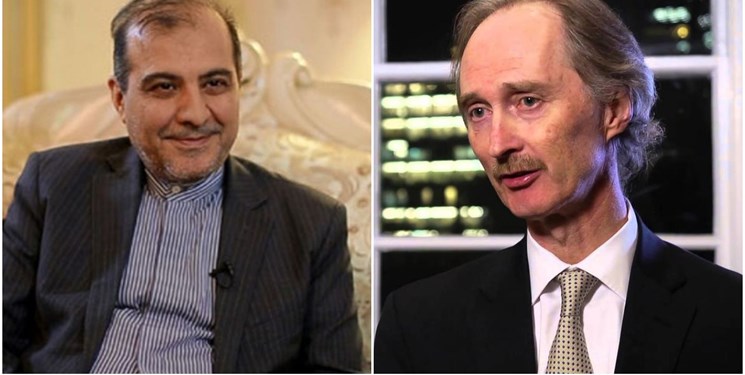 TEHRAN (FNA)- Senior Assistant to the Iranian Foreign Minister for Special Political Affairs Ali Asqar Khaji in a meeting with UN special envoy for Syria Geir Pedersen underlined the need for lifting cruel sanctions against the war-stricken Arab state and repatriation of the Syrian refugees.
The Islamic Republic has always supported and will continue to back all efforts by the UN to strengthen Syria's national sovereignty and territorial integrity, encourage intra-Syrian talks and promote peace and stability in the war-ravaged Arab country, Khaji said during the meeting in Tehran on Saturday.
"The Syrian government and nation have stood up to the ISIL and other terrorist groups for more than 10 years and have now achieved relative stability, and the country's relations with regional states are increasing," he added.
The Iranian diplomat called on the UN and other regional and international bodies to "pay attention to the current situation of the Syrian government and people and to step up their efforts to remove sanctions, provide aid to the (Syrian) people, (help) repatriation of the refugees and begin rebuilding the country".
In the meeting, the two sides exchanged views about the latest developments pertaining to the ongoing crisis in the Arab state, discussions about the Constitutional Committee and ways to counter sanctions and dispatch humanitarian aid to the Syrian people.
Khaji and Pedersen also stressed the importance of holding more consultations in the future.
The UN envoy, who is in Tehran at the head of a delegation, hailed Iran's efforts to promote cooperation with the UN in the Astana format negotiations to resolve the crisis in Syria through diplomatic channels and called for the continuation of such interaction.
Syria has been gripped by foreign-backed militancy since 2011, with the US and its western and regional allies fixated on overthrowing the government of Bashar al-Assad.
Meanwhile, Iran has been offering military advisory support to Syria at the request of the Damascus government, enabling its army to speed up its gains on various fronts against terrorist groups. The assistance helped reverse anti-Syria terrorists' advances and enabled the country to defeat the ISIL terrorist group in late 2017.