Politics
2022-January-20  18:08
FM Underscores Importance of Iranian, Russian Presidents' Meeting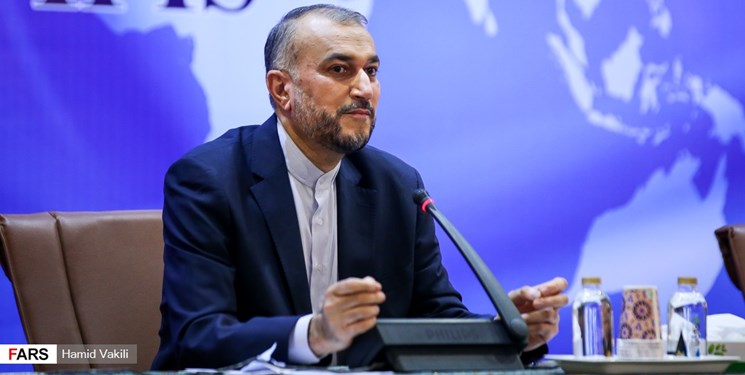 TEHRAN (FNA)- Iranian Foreign Minister Hossein Amir Abdollahian said that the presidents of Iran and Russia held important negotiations which will develop the two countries' strategic relations.
Amir Abdollahian made the remarks in a meeting with Chairman of the State Duma Committee on International Affairs Leonid Slutsky in Moscow on Thursday.
The two discussed bilateral and parliamentary relations, and emphasized the necessity to continue exchange of views and cooperation between the two nations.
The Iranian foreign minister mentioned the meeting of Iranian and Russian presidents Seyed Ebrahim Rayeesi and Vladimir Putin and the important negotiations held, saying that the outstanding ties between Tehran and Moscow are on the way to becoming strategic.
Slutsky, for his part, gave an excellent evaluation of parliamentary ties between Iran and Russia, and said that the expansion of strategic ties with the Islamic Republic of Iran was of importance to Russia.
President Rayeesi in a meeting with his Russian counterpart in Moscow on Wednesday underlined that the unlawful sanctions have failed to prevent Iran from making progress in different areas.
President Rayeesi arrived in Moscow on a state visit on Wednesday and he held a meeting with President Putin in Kremlin.
At the start of the meeting, President Rayeesi said Tehran sees no limits to the expansion and development of relations with Russia and wants to establish strategic relations with Moscow.
"Tehran has faced the United States for more than forty years and the sanctions have failed to prevent Iran from making progress in different fields," the Iranian president said while referring to the US policies against Iran.
The Iranian president also said that the strategic partnership documents between Iran and Russia can set prospects for bilateral relations in the next 20 years.
"We are looking to increase the volume of trade relations with Russia and we will make great efforts in that regard," he pointed out.
The Iranian president reiterated that his administration is trying to remove the sanctions on the Iranian nation.
He reiterated that the sanctions threat cannot stop Iran's progress.
The Russian president, for his part, said that Iran and Russia's support helped the Syrian government to overcome the terrorist threat.